City of Albuquerque Continues to Support Revitalization of Historic Downtown Hotel
Arrive Albuquerque will create 75 local jobs, boost Convention Center use
ALBUQUERQUE, N.M. – A historic rehabilitation is coming to the 1965-built Downtowner Motor Inn (most recently The Hotel Blue) to transform the Route 66 landmark located at 8th and Central into a new boutique hotel, ARRIVE Albuquerque. Los Angeles-based ARRIVE Hotels & Restaurants plans to invest $22 million to renovate and operate the new boutique hotel with the support of City Industrial Revenue Bonds (IRBs) that will not require any taxpayer funding. The project will help meet demand for downtown hotel rooms that has forced the Convention Center to miss opportunities due to a lack of accommodations.
The project adds to a growing list of dozens of major construction projects funded by public-private partnerships, including Nuevo Atrisco, The Highlands, Broadstone Nob Hill, The Rail Yards, Zocalo, and more.

When completed, ARRIVE Albuquerque will restore the six-story, 75,000 square-foot building to its original historic exterior. Plans include 135 guestrooms, meeting spaces, a ground-level coffee shop and bar, a renovated pool and patio with games, new landscaping, and a food truck park. Neon signage will pay homage to historic Route 66.
ARRIVE will hire a local general contractor. In addition to the construction jobs created, the project anticipates creating 75 full- and part-time jobs. All full-time employees will receive benefits and the option to participate in a 401(k) and management training program. Ninety-five percent of permanent new jobs are expected to be filled by current Albuquerque area residents. New jobs created at ARRIVE Albuquerque will meet or exceed median wages for the industry.
"From creating a sense of place to increasing public safety to creating more jobs for locals, public-private partnerships like this one to redevelop important spaces in our community have positive impacts for Albuquerque," said Mayor Tim Keller. "This project will help us meet a need for hotel rooms to boost the use of the Convention Center. We continue to see investments in the community pay off in the form of new jobs and revitalized neighborhoods."
"Many small cities welcomed Downtowner-brand hotels in the 1960s, as I-40 and similar interstates were pulling energy from their central business districts," said District 2 City Councilor Isaac Benton. "Today, I'm happy that ARRIVE will contribute to our wonderfully rebounding downtown and its arts district, with an exciting lodging destination for visitors."

"ARRIVE seeks to celebrate, and be celebrated by, the local community. Through thoughtfully-designed spaces and unique programming, ARRIVE will immerse its guests in the design, style, tastes, and culture of Albuquerque," said Chris Pardo, Chief Development Officer and Co-Founder of ARRIVE.
"ARRIVE will have a net positive economic impact of more than $2.2 million, and add over 75 jobs to downtown. Investing in a corner of downtown critical to revitalization efforts will have positive ripple effects for the surrounding businesses and neighborhoods," said CABQ Economic Development Director Synthia Jaramillo.
"Our goal is to create a thriving neighborhood establishment that is continually active with both locals and visitors to Albuquerque," said Ryan McCulloch, a Development Manager for the project.
"The new hotel will also help fill the current, and increasing, demand for hotel rooms to service the Convention Center, which continually has to turn away potential event business due to a lack of accommodations for conference guests," said Visit ABQ. Visit ABQ, Albuquerque's preeminent tourism company, estimates that since 2013, the Convention Center has been eliminated from consideration for at least three dozen meetings due to a lack of concentration of hotel rooms within walking distance to the building. The collective direct spending impact of that business conservatively equates to over $80 million dollars.
"Looking at ARRIVE Hotels in other locations gives us the strong impression that this group cares about history, design, integrity and community, and creates more than just hotels. Their projects are custom designed to not only fit into each unique environment but to add value and energy to the communities they carefully choose to operate in. We are excited to welcome ARRIVE as neighbors and are here to support their success," said Jay Rembe and Len Romano, Co-Chairs, West Downtown Business Group.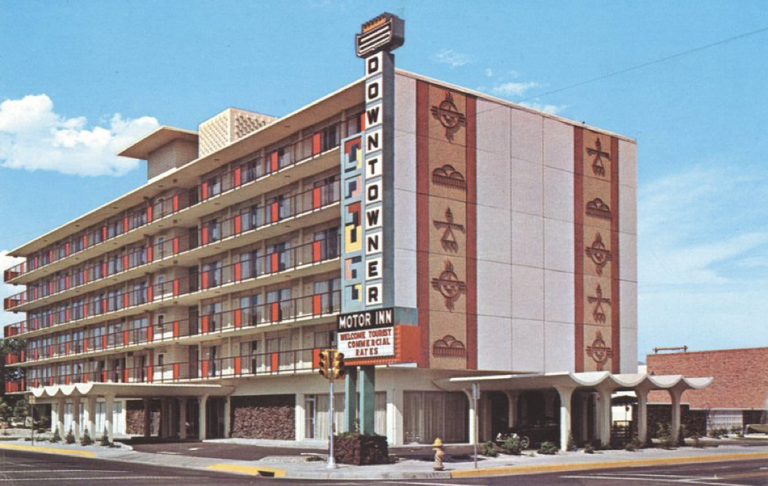 The 1965-built Downtowner Motor Inn. The project will bring the building back to the historic exterior.
About ARRIVE Hotels & Restaurants
ARRIVE designs and operates hotels and restaurants built to welcome people to the neighborhood. We love sharing what makes our neighborhoods special with locals and visitors alike. We're all about low-key luxury, which means we focus on thoughtful design and getting the little things right. We care more because we love these places. The first ARRIVE property premiered in Palm Springs in 2016 to critical acclaim. Earlier in 2019, ARRIVE opened new hotels in Wilmington, NC and Austin, TX, and later this year ARRIVE will add two more hotels in Phoenix, AZ and Memphis, TN. With plans for significant expansion in the coming years, ARRIVE aims to become a nationally-recognized leader in hotels and restaurants.