City Celebrates Solar Reshoring to Albuquerque
Keller Administration Welcomes Historic Billion Dollar Solar Manufacturing Investment
Maxeon Solar Technologies, a world-wide leader in solar innovation, will be opening a $1 billion-dollar solar panel manufacturing facility in Albuquerque. Mesa del Sol, the city's 'smart growth community' will soon be home to their first U.S. solar cell manufacturing site in a reshoring effort made possible by President Biden's Inflation Reduction Act.  
"Albuquerque is at the forefront of the movement to bring manufacturing back home because of our unique location, affordability, and skilled workforce," said Mayor Tim Keller.  "This massive project brings good paying jobs in clean energy will help foster new opportunities for families in New Mexico and create a more sustainable future for America."
Maxeon will build a 1.9 million-square-foot complex for their operations and is expected to employ up to 1,800 people, bringing good paying jobs to Albuquerque. The project will bring an estimated $4.2 billion economic impact to New Mexico over the next ten years, the largest of its kind in the city's modern history.
"New Mexico is an energy state, and with this landmark investment, Albuquerque is becoming a leader in the clean energy economy," said Max Gruner, Director of Economic Development for the City of Albuquerque.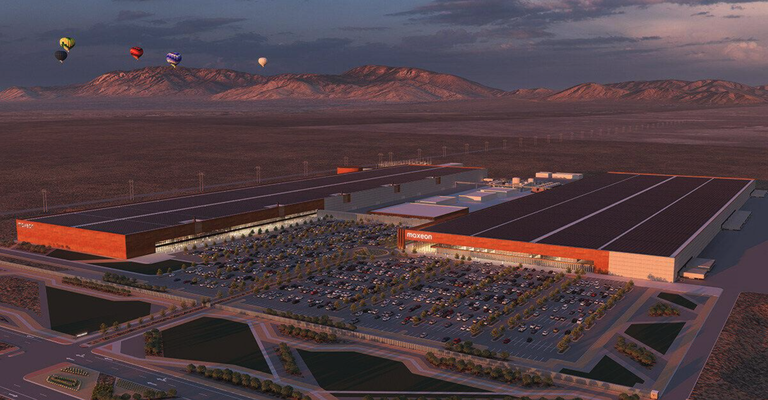 "We undertook an intensive process to assess sites across the nation to find the right home for our first U.S. manufacturing facility, which includes solar cell fabrication and panel assembly. New Mexico had everything we were looking for: a strong business-friendly climate, supportive infrastructure, focus on workforce development, and deep roots in energy leadership," said Maxeon Solar Technologies CEO Bill Mulligan
"I am proud to welcome Maxeon Solar Technologies' first US-based manufacturing facility to New Mexico," said Gov. Michelle Lujan Grisham. "This private investment shows how our state programs, paired with President Biden's Inflation Reduction Act, have charted a path for New Mexico as a leader in growing the clean energy economy and creating a strong workforce for the future."
Mayor Keller, State and Federal partners will celebrate the announcement at a press event tomorrow at Mesa del Sol.