Community Policing Council Recommendations
Information about Community Policing Council Recommendations.
These are recommendations that have been passed by the independent community policing councils and submitted to the Albuquerque Police Department. The councils are established to help facilitate positive change between the community and Albuquerque Police Department.
The recommendations are responded to in writing via the Chief of Police.
Recommendations Process
Recommendation Submitted to CPC Manager
CPC Manager delivers recommendation to CPC Administration for tracking
CPC Administration Assistant send recommendation to APD for review
Albuquerque Police Department researches options for recommendation and returns decision to CPC Administration Assistant for tracking
CPC Administration Assistant forwards APD response to CPC Manager for delivery to CPC Council
Recommendations Status Definitions
Submitted - A CPC member has submitted a recommendation to the CPC Manager.
In Review - Recommendation has been routed to the appropriate APD Division/ Section for a response.
Completed - Response to recommendation has been provided to the submitting CPC.
View Recommendations
Foothills Northeast Northwest Southeast Southwest Valley All CPCs
Foothills
Northeast
Northwest
Southeast
Southwest
Valley
All Six Community Policing Councils
Recommendation Process Map Illustration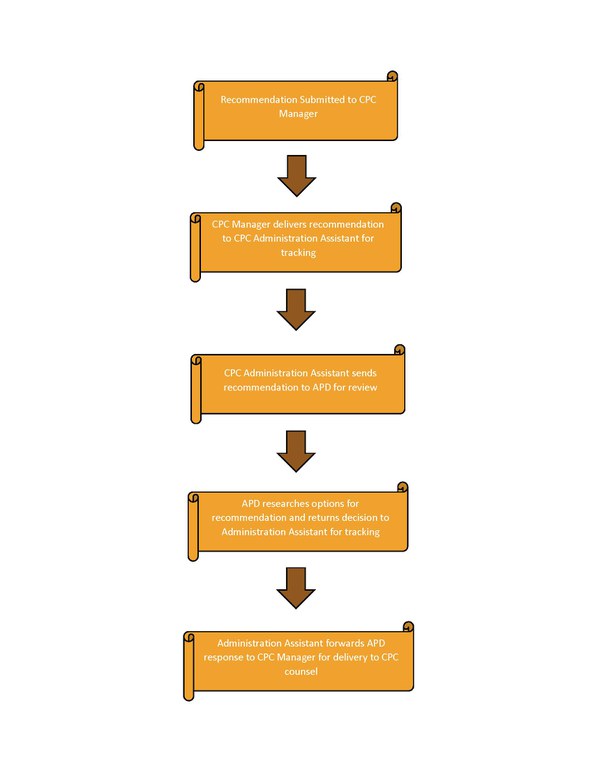 Disclaimer
The Albuquerque Police Department's website was developed to provide general information. Data contained at this location is generally not reviewed for legal sufficiency. Albuquerque Police Department documents displayed are for reference purposes only. Their completeness or currency is not guaranteed. Links or references to other information or organizations are for reference only and do not constitute an endorsement.