Albuquerque Museum Tours
Albuquerque Museum is closed to the public until further notice.
The public is invited to take a docent-guided tour of Albuquerque Museum's galleries and sculpture garden, an Old Town walking tour, or a guided tour of Casa San Ysidro in Corrales. No reservation necessary. Tours are included with your paid admission.
Gallery Tours — Suspended 
Docent guided tours of select gallery exhibitions - every tour is different!
Year Around
Tuesdays - Sundays: 2 p.m. No reservation necessary.
One-hour docent guided tours are also offered with pre-arranged bookings. Each tour is designed specifically for the interests and age level of the group requesting the tour.
Sculpture Garden Tours — Suspended 
March through November
Wednesday and Saturday: 11 a.m.
Enjoy a pleasant stroll in our sculpture garden with a friendly docent who will sharing stories on the artists and their works. No reservations necessary. Tours are free with your paid general admission to the Museum.
Self-Guided Sculpture Garden Tours
Self-guided tour books of the sculpture garden are available for check-out at the Museum admissions desk in the lobby.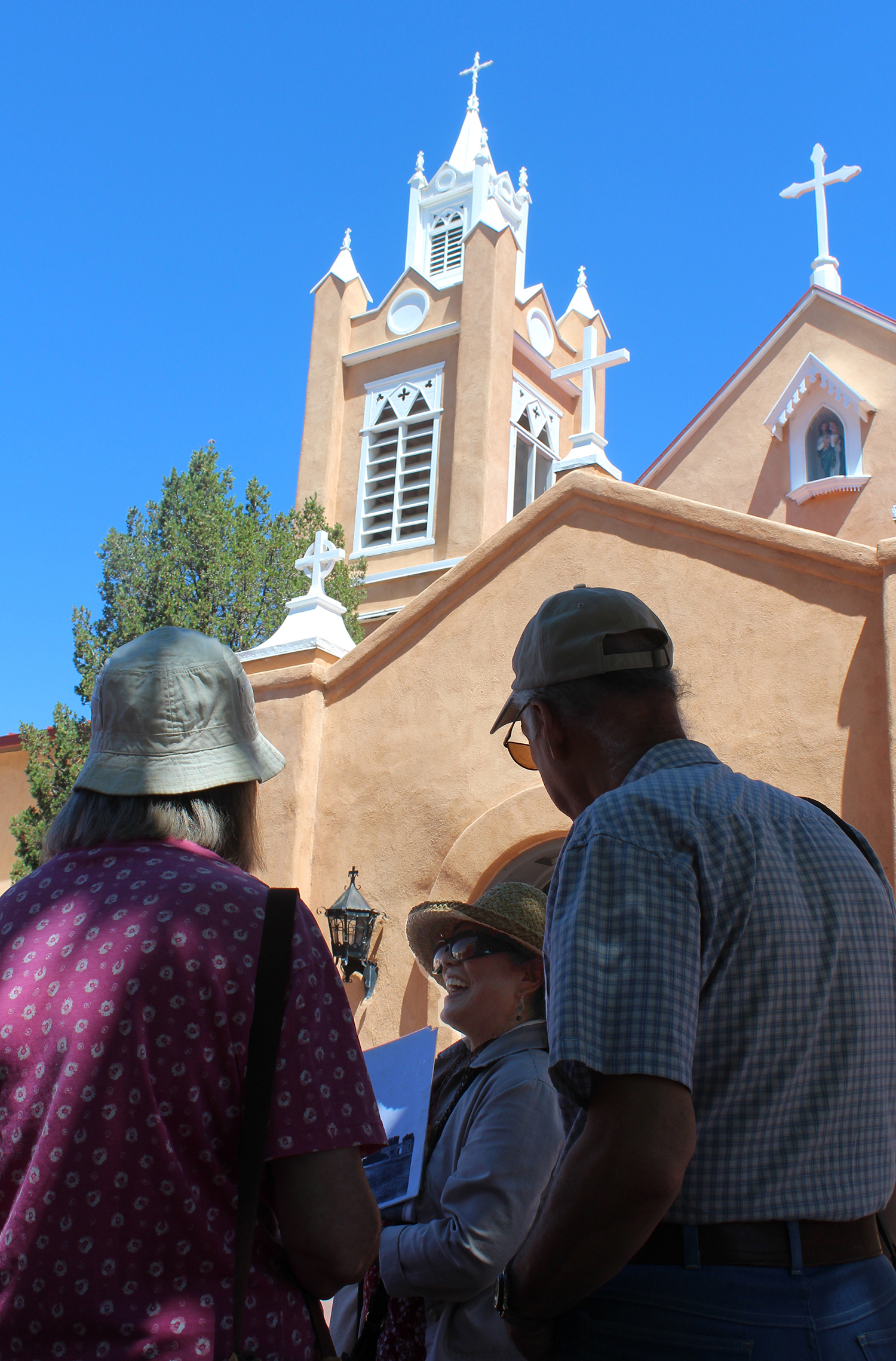 Old Town Walking Tours — Suspended 
March through November
Sunday, Tuesday, Thursday & Friday: 11 a.m.
Explore historic Old Town on foot with our informative docents who will provide insight into the people and places that shaped our early community. Open to the public. No reservations necessary. 
Old Town Walking Tours are not available for school groups.
Casa San Ysidro Tours in historic Corrales — Suspended
SUMMER HOURS: June, July & August
Tuesday to Saturday: 10:30 a.m., noon and 1:30 p.m. 
February - May & September - November
Tuesday to Friday: 9:30 a.m. and 1:30 p.m.
Saturday: 10:30 a.m., noon and 1:30 p.m.
More information about tours at Casa San Ysidro
Casa San Ysidro
973 Old Church Road, Corrales NM 87048
(505) 898-3915
Schools and Teacher Info
For more information, view our Teacher and School Tours, call (505) 764-6502, or email: [email protected]. Tours are operated under the direction of the Albuquerque Museum Education Division. Group tours may be arranged by special request. School tours are offered on a limited basis.
Group Tours
Got a group of 10 or more? We would be happy to arrange a docent guided tour for you of Historic Old Town, the Sculpture Garden, Casa San Ysidro, or our current exhibitions. 
General admission fees apply, special exhibition surcharges may apply as well. Contact the Education department to schedule your tour at 764-6502.