City of Albuquerque Awarded Funding For Electric Buses and 24 Electric Vehicle Charging Stations
On Earth Day, April 22, 2020, the State of New Mexico and the City of Albuquerque announced an award of $180,000 from the VW Settlement Trust Fund to build 24 new electric vehicle (EV) charging stations across Albuquerque and an additional $800,000 toward electric buses for the Transit Department. These stations will supply increased charging access to EV and plug-in hybrid owners both living in and traveling through Albuquerque – filling in service gaps along U.S. Interstate 40, Paseo del Norte, and U.S. Interstate 25.
The $800,856 awarded to Transit will serve as the local match to the Low or No Emission (Low-No) Grant the City received from the Federal Transit Administration last year to eventually buy five electric buses. The federal portion of the grant is $2.786 million.
Mayor Keller said, "This effort started before coronavirus hit and is part of government continuity for projects that will improve quality of life for our residents in the years to come. We're building a cleaner, more sustainable Albuquerque, and as more people make the change to electric and hybrid vehicles, we're putting in the infrastructure to support that shift. These new stations will give Burqueños access to charge EVs and hybrids throughout the city."

This push for more access to electric vehicle charging is part of a larger initiative by the City to make significant cuts to air pollution and contributions to climate change. The City is also working to convert 100% of fleet vehicles to plug-in hybrids, EVs, and alternative fuel vehicles with plans to purchase more than 40 EV and hybrid vehicles to incorporate into the City fleet.
Electric and plug-in hybrid vehicles and electric buses produce far less air pollution than traditional gas-powered vehicles, making them a strong option to lower air pollution and climate change impacts stemming from vehicles.
"The New Mexico Environment Department is thrilled to award this funding to the City of Albuquerque," said Cabinet Secretary James Kenney. "Providing reliable access to charging infrastructure is a key part of increasing the use of electric vehicles and decreasing harmful emissions."
The new stations will be located at 11 City facilities including the Sunport, Central and Unser Library, Albuquerque Balloon Museum, North Domingo Baca and Manzano Mesa Multigenerational Centers, Los Altos Golf Course and Explora. Stations will also appear in on-street parking spots in Nob Hill and Downtown. Facilities were chosen to support best opportunities to ensure equity of access throughout the city and proximity to major roadways, shopping and other attractions.
In 2019, the City installed 14 EV charging stations at Civic Plaza Parking Garage and the ABQ BioPark – increasing the total of city- owned EV charging stations from 2 to 16. The incoming charging stations funded by the State will bring the total of EV charging stations to 40. The City hopes to have stations up and running by early 2021.
Once delivered, the five electric buses will be placed on local routes throughout the City.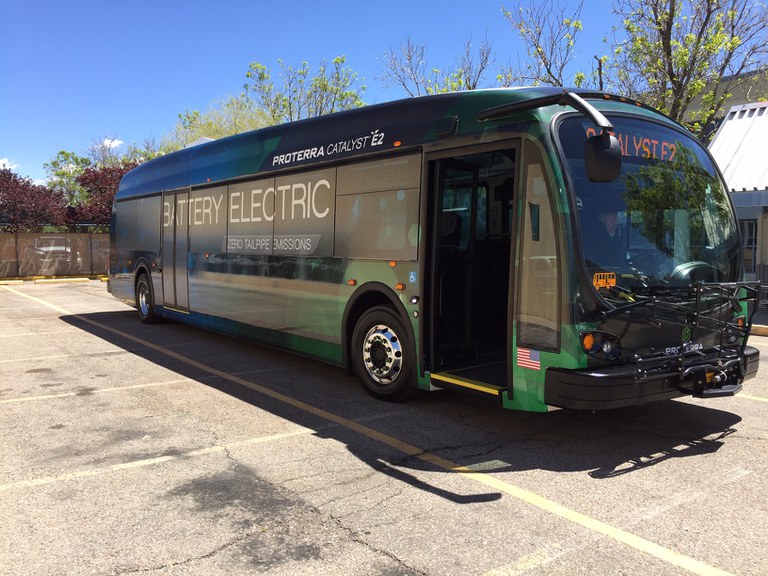 A Proterra electric bus makes a demonstration appearance at Transit's Yale Facility on April 18, 2019.