Albuquerque's Wall of Fame Inducts Legendary New Mexico Sportscaster Connie Alexander
Onetime Prodigy went from Local Sports to Lobos to National Sports Scene
At one time, he was the major sports announcer in Albuquerque; the voice of almost every sporting event from high school sports to Lobo football and basketball. Then he became one of the key voices for what was one of the largest college football networks. That turned into announcing some of history's biggest college football and basketball games.
It's why legendary New Mexico sportscaster Connie Alexander was the seventh inductee into Albuquerque's Wall of Fame today. Although Connie suddenly passed away six weeks ago, his daughter Amy May was on hand for the ceremony at the Alvarado Transportation Center. Among the speakers was Connie's former high school classmate, legendary Albuquerque High basketball coach and seven-time state champion Jim Hulsman.
"ABQ RIDE created the Wall of Fame not only to honor people who've impacted our community in a positive way, but also to honor those who have done it on a grand scale," said Santiago Chavez, the outgoing Acting Transit Director. "Connie Alexander did all that on a national scale, while still living in New Mexico."
Connie moved to Albuquerque with his family while still in high school. His teachers at Albuquerque High soon discovered his talent and made him public address announcer for the school's football games. By that summer, he was doing the same for Albuquerque Dukes professional baseball. Within months, he was also calling high school football and basketball and hosting a local sports show on Albuquerque radio, as well as calling UNM Lobos basketball.
After a stint in the Air Force in Oklahoma, Connie enrolled at UNM and in his mid-20s became the radio voice of UNM football and basketball. After eight years, his broadcast sponsor hired him to become the No. 2 voice of the Humble Oil Southwest Conference Football Network, then one of the largest sports radio networks in the country. By 1967, he was the network's main voice. He continued to live in Albuquerque while flying or driving out to different stadiums each week.
Connie announced some of the greatest games in sports history, such as 1969's "Game of the Century" between Texas and Arkansas. He called ten Cotton Bowls, six Sun Bowls and NFL playoff games for CBS and the NCAA basketball playoffs, often teaming with the dean of basketball coaches, John Wooden.
Along the way, Connie was chosen three times as New Mexico Sportscaster of the Year by the National Sports Media Association. In 1969, he was also chosen Sportscaster of the Year in Texas, a big accomplishment for an out-of-state broadcaster.
In 1984, Connie went back to calling UNM football and basketball for three years on Albuquerque TV. In 2003, he was inducted into the New Mexico Sports Hall of Fame. And in 2010, at the suggestion of UNM baseball Coach Ray Birmingham, then 80-year-old Connie broadcast two seasons of Lobo baseball on radio.
In 2016, Connie donated an archive of his sports broadcasts to Texas Tech and UNM, along with oral history interviews (https://libvideo.unm.edu/?q=taxonomy/term/35&page=1). Now, researchers can study Connie's unique delivery and lofty place in broadcast sports history.
"Connie Alexander was almost like sports' Forrest Gump, with his unique ability to have a hand in many of the most famous games in sports history," said Jeff Siembieda, Executive Director of the New Mexico Bowl and Wall of Fame M.C. "He was a once in a lifetime talent."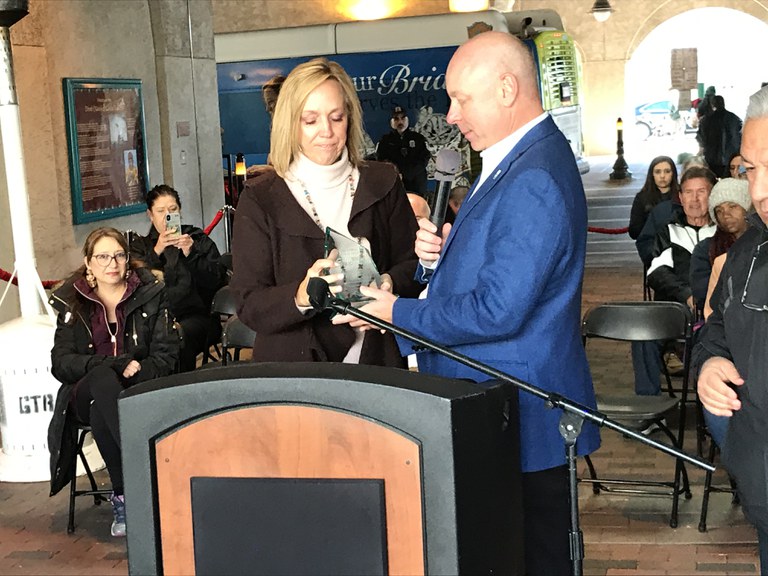 Alexander's daughter Amy May receives award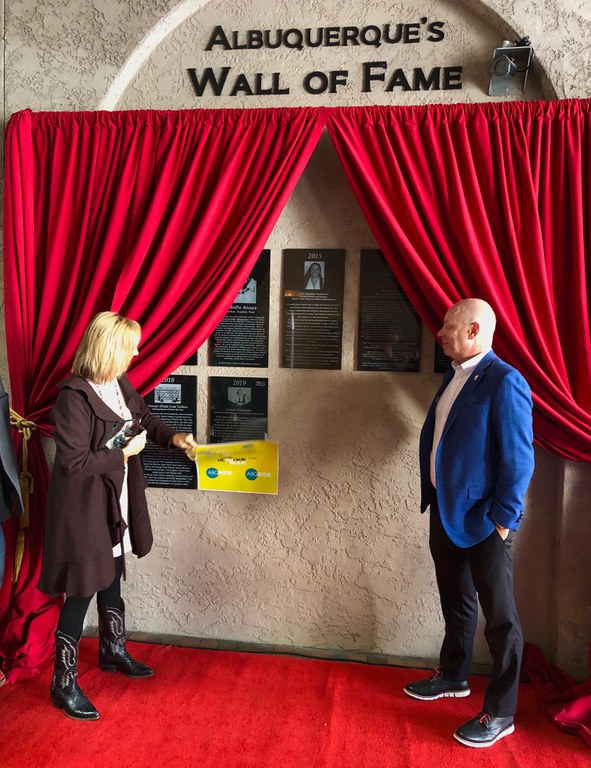 Amy May unveils father's plaque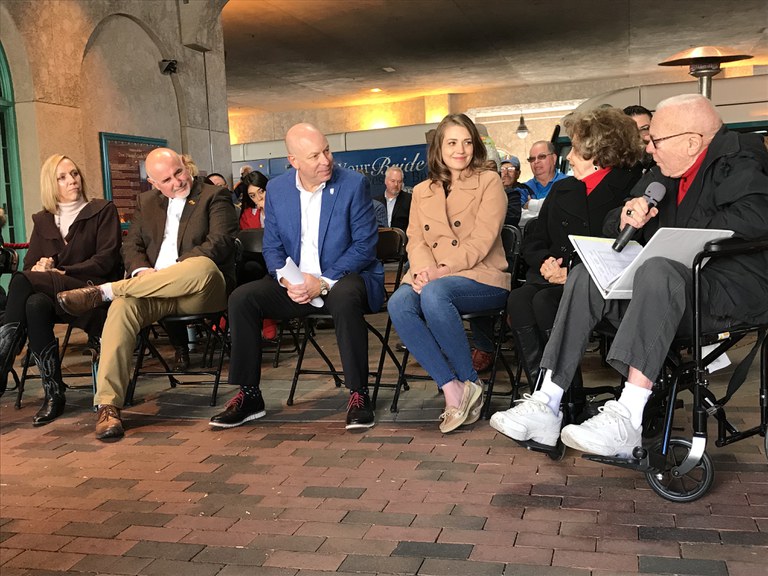 N.M. Basketball Coaching Legend Jim Hulsman spoke about boyhood friend Connie Alexander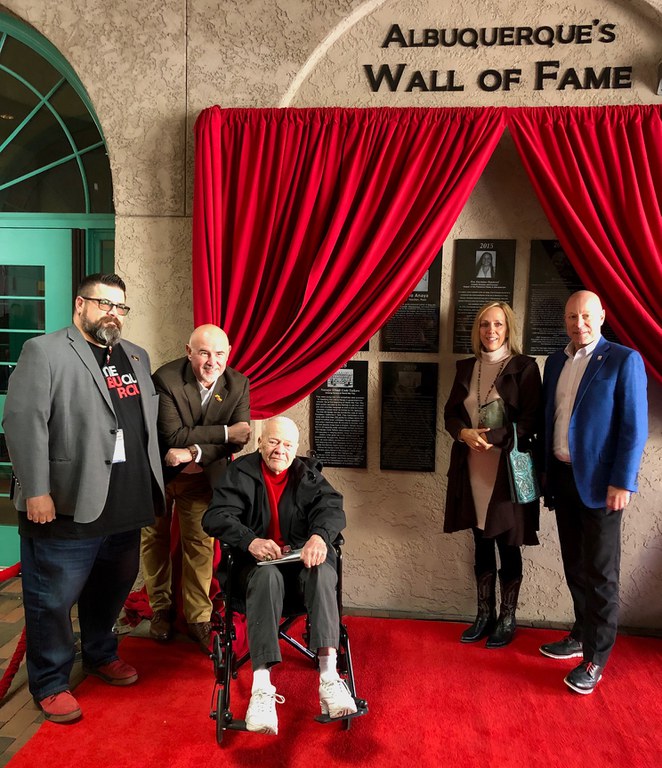 from left: Outgoing Transit Director Santiago Chavez, Transit Director Danny Holcomb, Coach Jim Hulsman, Amy May (Alexander's daughter) and M.C., sportscaster Jeff Siembieda.