Veterans & Military Affairs Advisory Board
Information about the Veterans & Military Affairs Advisory Board.

Purpose
The Veterans and Military Affairs Advisory Board (VMAAB) works to identify concerns of the Military and Veteran community in the City of Albuquerque, with the responsibility of drafting recommendations to both the City Council and the Mayor's Office.
The Board also serves as a network for the exchange of information relative to veterans activities.
Structure
The VMAAB has a Chair (the Military & Veteran Liaison appointed by the Mayor) and a Vice-Chair (voted on by the board). There are three subcommittees that members of the board, and the public, may join and participate in ongoing discussions and research pertaining to identifying concerns and solutions for the Military & Veteran communities.
Subcommittee Mission Statements
Transition & Reintegration
Identify programs and resources currently available in the community and determine gaps in services for the larger Military and Veteran community.
Examine differing variables of transition (retiring, homelessness, end-of-service) and how they affect the veteran population.
Determine efficacy of resources and where improvements can be made to increase positive outcomes.
Submit report which examines all factors and makes recommendations on where CABQ can contribute to "Improve."
Critical Needs
Assess the needs of the community that are in a critical junction, such as homelessness, mental health, and
behavioral health.
Gather information from community and government sources to determine the level of critical services needed.
Determine whether or not the City of Albuquerque or the City Council will be able to address those needs, or if it will need to be addressed through partnerships or other entities.
Create a list of current services and options for ether policies or plans that the City of Albuquerque can take to address gaps of critical needs.
Community Enforcement
Implement a plan of Veteran inclusiveness with key stakeholders, partners, and agencies that removes barriers and stigmas of what Veterans are/need.
Identify current programs and systems working to engage Veterans and military families.
Create a program to develop a more engaged Veteran community with local. partners and agencies.
Develop an engagement package to promote business and Veteran community involvement.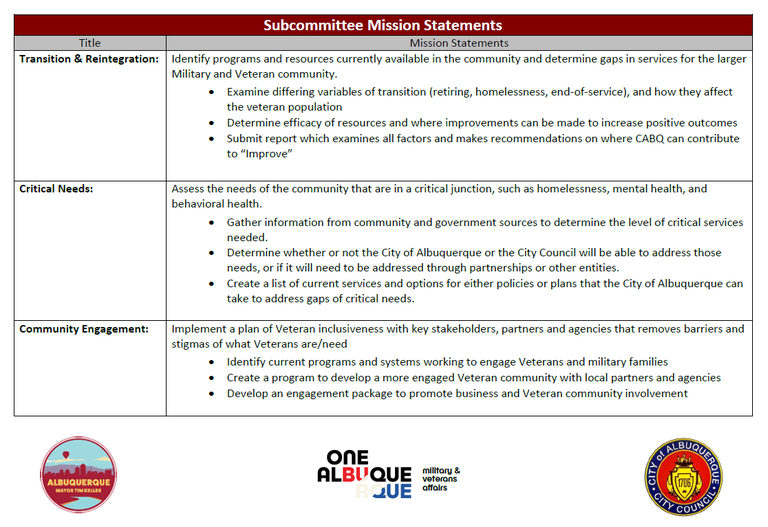 Membership
The Mayor, with the advice and consent of the Council, shall appoint the members from names recommended by local Military and Veteran organizations, and other Department of Defense or Department of Veterans Affairs organizations providing services to Veterans.
Members must meet at least one of the following criteria:
be an involved Veteran
a Representative of a Veteran Organization providing services directly to Veterans
Active Military member representing Veteran interests within military units, operating within the Albuquerque Metropolitan Area
Current Members
View membership on this board.
Contact Information
For more information, email Thomas Tozier.
Upcoming Meetings
Meetings are held the third Wednesday of every month, from 9 - 11 am at the New Mexico Veterans' Memorial Park at 1100 Louisiana Blvd. SE Albuquerque, NM 87108. Meetings occur both in person and through Zoom, the information for each meeting can be found in the monthly agenda below.
January 18, 2023
February 15, 2023
March 15, 2023
April 19, 2023
May 17, 2023
June 21, 2023
July 19, 2023
August 16, 2023
September 20, 2023
October 18, 2023
November 15, 2023
December 20, 2023
No results were found.