Public Safety ECHO
Information about the City of Albuquerque's Public Safety ECHO program.
Upcoming Sessions:
Thursday, August 26 1-2:30 p.m. - Downtown Public Safety ECHO - Situational Awareness & Self Defense Basics
Wednesday, September 1, 4-5:30 p.m. - Nob Hill-University Public Safety ECHO Understanding  Medication Assisted Treatment and options for those struggling in our communities and barriers they face
Thursday, September 9, 1-2:30 p.m. - Downtown Public Safety ECHO - 
Wednesday, September 15, 4-5:30 p.m. - Nob Hill-University Public Safety ECHO - Homelessness Interventions
Thursday, September 23, 1-2:30 p.m. - Downtown Public Safety ECHO - APD Narcotics Analyst
Wednesday, October 6, 4-5:30 p.m. - Nob Hill-University Public Safety ECHO - APD Real Time Crime Center & Data Driven Policing
Thursday, October 14, 1-2:30 p.m. - Downtown Public Safety ECHO - 
Wednesday, October 20, 4-5:30 p.m. - Nob Hill-University Public Safety ECHO - Therapeutic Jurisprudence
Thursday, October 28, 4-5:30 p.m. - Downtown Public Safety ECHO - Sequential Intercept Model

The Downtown Public Safety ECHO Project is the world's first-of-its-kind effort to use the ECHO model to bring downtown residents, workers, and businesses together in an online, social and professional space to share skills, increase knowledge, and solve problems. It's innovative because it taps into the community's wisdom to find solutions, applying the Project ECHO "All teach, all learn," multidisciplinary approach to finding best practices. It is part of the city's strategy to tackle crime from all sides.
The Downtown Public Safety ECHO Hub Team and Curriculum
The Downtown Public Safety ECHO Hub team oversees the program and curriculum - community wellness, mental health, skills training, public safety, and drugs intervention and prevention. Read more about the Public Safety ECHO Hub Team & curriculum.
Contact Us
Maria Wolfe
Downtown Public Safety ECHO Coordinator
[email protected] 505-917-5559
Schedule
2nd and 4th Thursday of each month
1-2:30 p.m. MST
The Downtown Public Safety District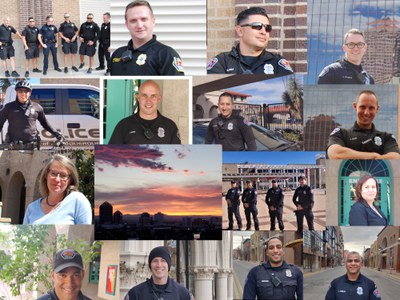 The Downtown Public Safety District is committed to the principles of community policing. The officers walk, bike and drive the streets and alleys of the core downtown (Lomas to Coal, Broadway to 12th Street). The don't drive by, they walk in and know the business owners, residents, office workers, service providers and people on the streets. They partner with the community to increase safety, address problems, provide training, assist with medical or mental health transport, de-escalate situations, find solutions and create a positive downtown environment. If you would like to schedule a training, talk with the officers or discuss an issue of concern, please contact the Downtown Public Safety District Substation Administrator: 505-768-2808 or email [email protected]
The ECHO Model and Public Safety
Extension of Community Healthcare Outcomes, or Project ECHO, was created as a medical model to tele-mentor doctors across geographic distances. The goal of this model is to create better outcomes among patients by sharing best practices among doctors treating specific illnesses. This is the first time the ECHO model will be used as a way to increase public safety – as part of a true community policing initiative -- and will serve as a model for the rest of the world. Learn more about the ECHO model.
Why ECHO?
"ECHO is a movement to demonopolize knowledge and amplify the capacity to provide best practice care for underserved people all over the world."
The first priority of ECHO is the community it serves. Its multi-disciplinary approach valuing all voices creates an environment that identifies problems, finds solutions and creates partnerships.
Ever wish you knew how to de-escalate a dangerous situation? What to do with someone experiencing behavioral, substance abuse, or homelessness challenges? How to build a more resilient and connected network? In weekly sessions, Public Safety ECHO answers these questions, teaches skills,educates partners in different aspects of a healthy downtown and empowers community members.
The model is formatted to include three critical pieces:
Introductions, announcements: Builds community among participants
Case Presentations: Learn from real scenarios
Didactic Presentation: A subject matter expert provides information on a topic the network has requested and is available to answer questions.
Submit a Case
We welcome your suggestions regarding any scenario involving Downtown Albuquerque that you want to discuss at a future Downtown Public Safety ECHO session. If you do not feel comfortable presenting, a member of the Hub team is able to present to the network on your behalf.
If you are interested in presenting or have an idea for a future presentation, complete the Downtown ECHO Case Presentation Form.
Past Session Archive