Vision Zero
Information about the City's actions to improve traffic safety in Albuquerque.
What Is Vision Zero?
What is an acceptable number of traffic deaths for my family?
ZERO.
Vision Zero starts with an ethical belief that no one should die or be seriously injured on our roadways. We cannot prevent collisions from happening but when a collision does occur, the City is working toward making sure it does not result in death or serious injury. Vision Zero uses a data-driven and safe systems approach to create safer streets for everyone - whether we're walking, biking, driving, or taking transit, and regardless of age or ability. It is used around the world to eliminate all traffic fatalities and serious injuries while increasing safe, healthy, equitable mobility for all. Read more about Vision Zero.
Based on preliminary 2022 crash data, at least 66 people were killed while traveling around our city. That is 66 too many of our family members, children, friends, and neighbors. We can all take steps to improve safety on Albuquerque streets.
Vision Zero in ABQ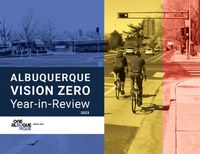 The recently City completed an update to the Vision Zero Action Plan called the Year-in-Review for 2023 (YIR). The YIR assessed progress made toward Vision Zero, including projects and programs that have been successful and also identifying which ones needed to be adjusted. The YIR ultimately prioritizes thematic goals, actions, and corridors where the City should first focus on traffic safety efforts to have the greatest impact in reducing and eliminating traffic deaths and serious injuries by 2040. It also serves as an updated Action Plan for the City to implement Vision Zero efforts. Read the Vision Zero 2023 Year-in-Review.

In May 2021, the City of Albuquerque released its Vision Zero Action, which lays out steps that the City, working with agency and community partners, will take to reduce traffic fatalities and make our streets safer. Read the 2021 Vision Zero Action Plan.
In May 2019, Mayor Keller made a commitment to Vision Zero and signed an Executive Order committing the City of Albuquerque to work toward the goal of zero traffic deaths by 2040. View the Executive Order.
The Data
Data-driven decision-making is a key element of any Vision Zero effort. In order to solve traffic safety problems in our community, we need to better understand the causes. This is some of the data that we use to help guide our work:
What We Are Doing
Unfortunately, there is no quick fix and lessons learned from other cities show that getting to zero requires long-term investment and commitment. Here are some steps we are already taking toward Vision Zero in our community.

Updates related to Vision Zero efforts are provided at the monthly Greater Albuquerque Active Transportation Committee (GAATC) meetings.
Safe Multimodal Street Design
Shift to Active Modes
Culture of Safety
Data and Transparency
What You Can Do
Getting to zero requires a commitment from all of us to be careful and watch out for one another when we are on the road. Here's how you can help:
Keep up-to-date with Vision Zero efforts by participating in the monthly Greater Albuquerque Active Transportation Committee (GAATC) meeting. Learn more.
Who Is Involved?
City of Albuquerque Departments
Mayor's Office
City Council
Department of Municipal Development
Transit Department
Albuquerque Police Department
Parks & Recreation Department
Planning Department
Environmental Health Department/Sustainability Office
Risk Management
Office of Equity & Inclusion
Economic Development Department
Partners
Mid-Region Metropolitan Organization / Mid-Region Council of Governments
NM Department of Transportation
UNM Center for Injury Prevention Research & Education
Albuquerque Public Schools
Bernalillo County
Central New Mexico Community College Sustainability Office
Community Organizations