Judy Tuwaletstiwa, Tom Joyce, Karen Willenbrink-Johnsen, Trinity/Ashes series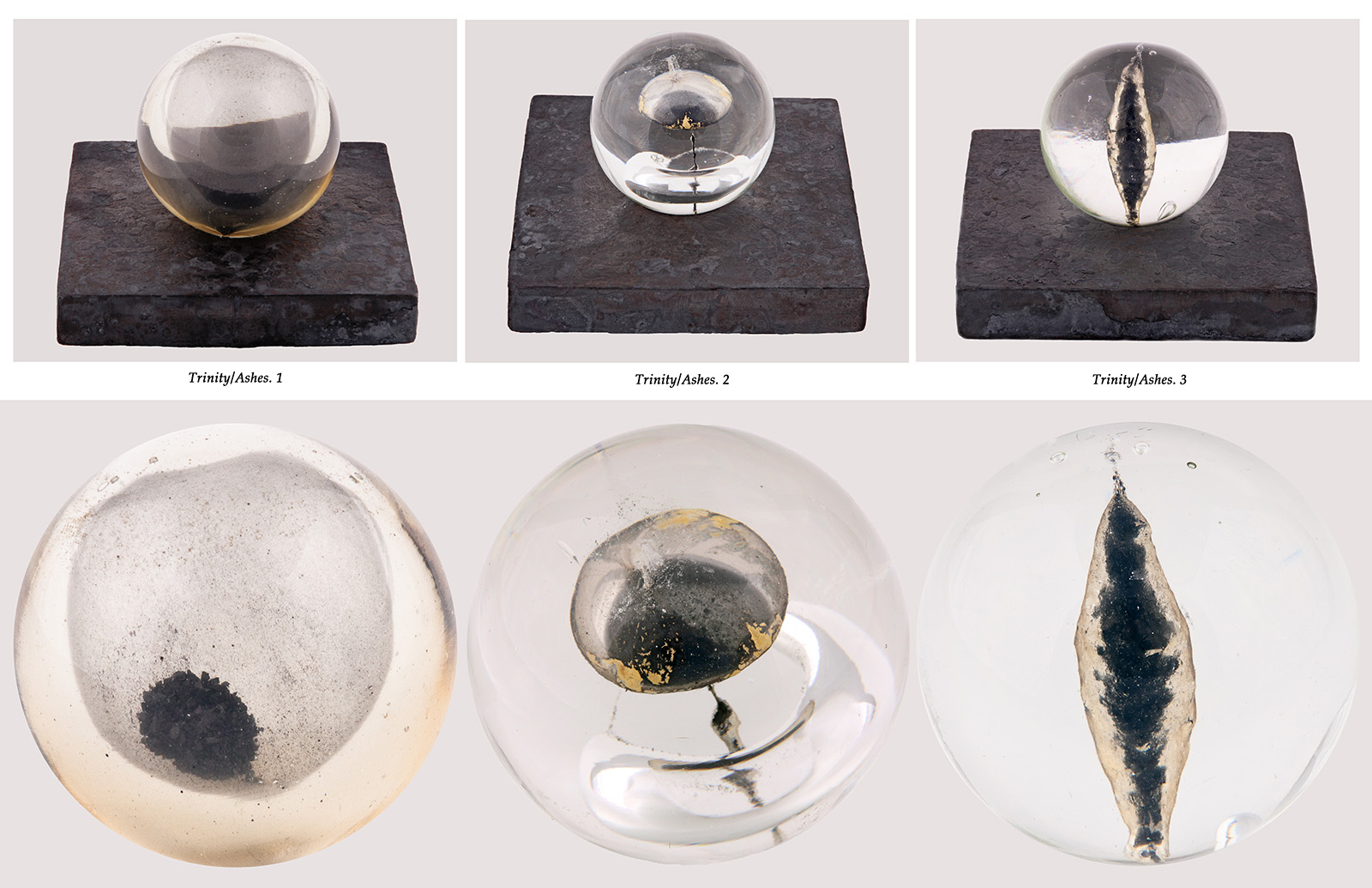 The Trinity/Ashes series was created while Judy Tuwaletstiwa attended an artist residency at the Pilchuck Glass School in Pennsylvania. Working closely with artist Karen Willenbrink-Johnsen, Tuwaletstiwa created three more glass spheres that incorporated gold leaf and carbon ash from a lightning struck tree. The components combined in sometimes unexpected ways creating a hollow cavity filled with ash, a mushroom cloud, and a chrysalis. The process served as a contemplation of the Trinity test and its aftermath and is summarized in Tuwaletstiwa's own words:
Silica, carbon ash, gold leaf, fire,
breath, intention, and the Unconscious
combined mysteriously
to take us below political rationalizations,
into human suffering and beyond,
to the mystery of the creative/destructive process itself.
Judy Tuwaletstiwa
born 1941 Los Angeles, California; lives Santa Fe, New Mexico
Tom Joyce (iron base)
born 1956 Tulsa, Oklahoma; lives in Santa Fe
Karen Willenbrink-Johnsen (gaffer)
born 1960 Cincinnati, Ohio; lives Bow, Washington
Trinity/Ashes series
(Trinity/Ashes, Trinity/Ashes I, II, III)
2001
blown glass, iron (base)
3 in. diameter (Trinity/Ashes), 4 in. diameter (Trinity/Ashes I, II, III)
lent by Cindy Miscikowski, © 2020 Judy Tuwaletstiwa
photos by Phillip Tuwaletstiwa
Trinity/Ashes is a three-inch black glass sphere representing the amount of plutonium used in the Fat Man bomb detonated over Nagasaki. The quantity of plutonium that actually fissioned was only a fraction of the amount represented by the sphere; today we are capable of fissioning the entire amount. It is difficult to imagine that the power to devastate an entire city could be contained within such a small object. Trinity/Ashes reflects on the idea that the human hand can both create and destroy.