Vincent Craig, Muttonman Discovers Columbus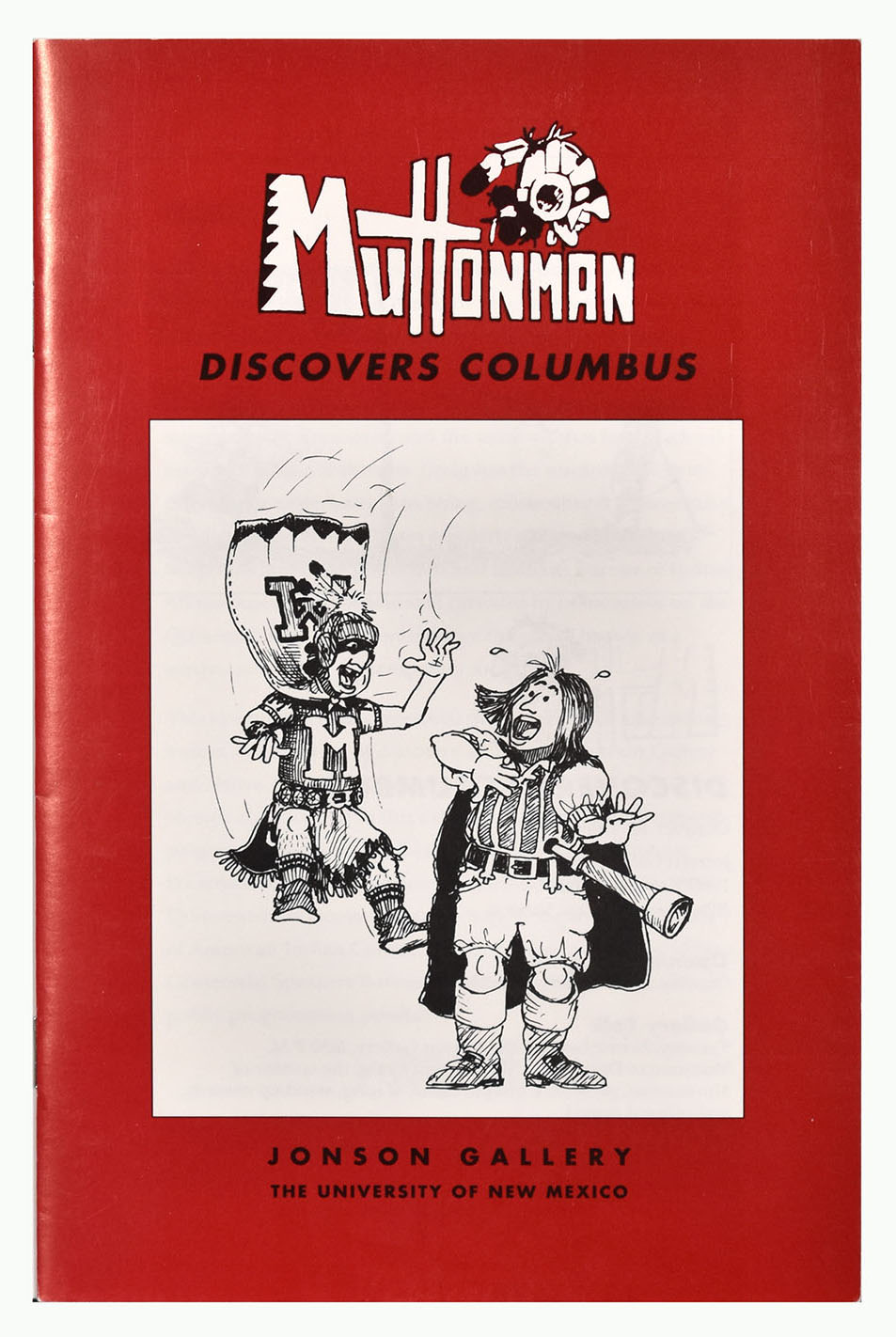 Vincent Craig
1951 Crownpoint, New Mexico−2010 Scottsdale, Arizona
"Muttonman Discovers Columbus"
Exhibition from Jonson Gallery, University of New Mexico
1994
pamphlet
lent by a private collector
photo by David Nufer
"Muttonman Discovers Columbus" installation at Smithsonian Experimental Gallery, Washington, D.C., 1993, photo by Joe Traugott
A tailings pond ruptured at the Church Rock uranium mill on the 34th anniversary of the Trinity explosion. 94,000,000 gallons of acidic water and 200,000 pounds of radioactive tailings flowed into the Rio Puerco in New Mexico. The spill rendered the water toxic and unusable in some communities including Gallup and the Diné homeland in Arizona.
In Vincent Craig's cartoon series, a lonely shepherd ate mutton from sheep that drank from the contaminated Rio Puerco and instantly acquired superhuman powers and became Muttonman. Craig's cartoons in the Navajo Times featured Muttonman's heroic adventures on the reservation and beyond.
Mutton Man saved Columbus when the captain of the Niña, Pinta, and Santa Maria became disoriented in 1493. Craig's exhibition, Muttonman Discovers Columbus coincided with the 500th anniversary of Columbus's exploits. After displays in Albuquerque, Santa Fe, Gallup, and Window Rock, Arizona, the exhibition traveled to the Smithsonian's Experimental Gallery in Washington, DC.