Mayor Tim Keller Honors Navajo (Diné) Code Talkers at Albuquerque Wall of Fame Induction
Sixth Induction into Albuquerque's Wall of Fame
Albuquerque, N.M. – On Friday, Oct. 26, 2018,  Mayor Tim Keller joined with city representatives and families to honor Navajo (Diné) Code Talkers at the Albuquerque Wall of Fame. They were often punished for speaking their native Navajo in school, but when the Marines came calling in World War II to use their complex language as a code, they quickly responded. It's how the Navajo Code Talkers helped the United States defeat Japan.
It's why the Navajo (Diné) Code Talkers are the sixth-ever inductees into Albuquerque's Wall of Fame at the Alvarado Transportation Center in Downtown Albuquerque (Diné is the Navajo word for their tribe, which means "the people"). They embody the spirit of unsung heroes that is the hallmark of previous Wall of Fame inductees, all the while accomplishing their work under difficult and often deadly circumstances.
"The Code Talkers used their complex and unwritten language to craft a code so indecipherable, it was never broken by the enemy," stated Mayor Tim Keller. "But their achievements went unnoticed until they were finally declassified in 1968. Since then, the Navajo Code Talkers have brought positive, worldwide attention to New Mexico and the Southwest. Their outstanding achievements no longer fly under the radar."
Mayor Keller also welcomed a special guest, 95 year old Code Talker Joe Vandever, Sr. of Haystack, New Mexico. Vandever is one of seven living Code Talkers who faced heavy fighting in the Pacific during World War Two.
The first 29 Navajo recruits formed the code at Camp Pendleton, California in 1942. They memorized a code book with more than 200 words for military terms that would've baffled even accomplished Navajo speakers. At a time when machines took 30 minutes to encode, transmit and decode three lines in English, Code Talkers could do it in 20 seconds.
The Navajo Code Talkers were praised for their speed and accuracy in relaying tactics, troop movements and orders under great risk in key battles such as Guadalcanal, Bougainville, Saipan and Okinawa. At Iwo Jima, six code talkers worked around the clock sending and receiving over 800 messages without error. Many agree the Marines might never have taken Iwo Jima without the Navajo Code Talkers. About 200 more Navajos were trained in the program, which finally ended early in the Vietnam War.
Even after 1968, the Code Talkers' role in America's victory still wasn't widely publicized. It wasn't until President Reagan recognized them in 1982 that they finally got well-deserved recognition. President Clinton awarded them all the Congressional Medal of Honor in 2001
"ABQ RIDE created this Wall of Fame not only to honor people who've impacted our community in a positive way, but also to honor those who have done it on a grand scale. The Navajo Code Talkers more than fit this bill," said Bernie Toon, Director of ABQ RIDE. "Their work and grace under fire make them a logical choice for a permanent place on our Wall of Fame."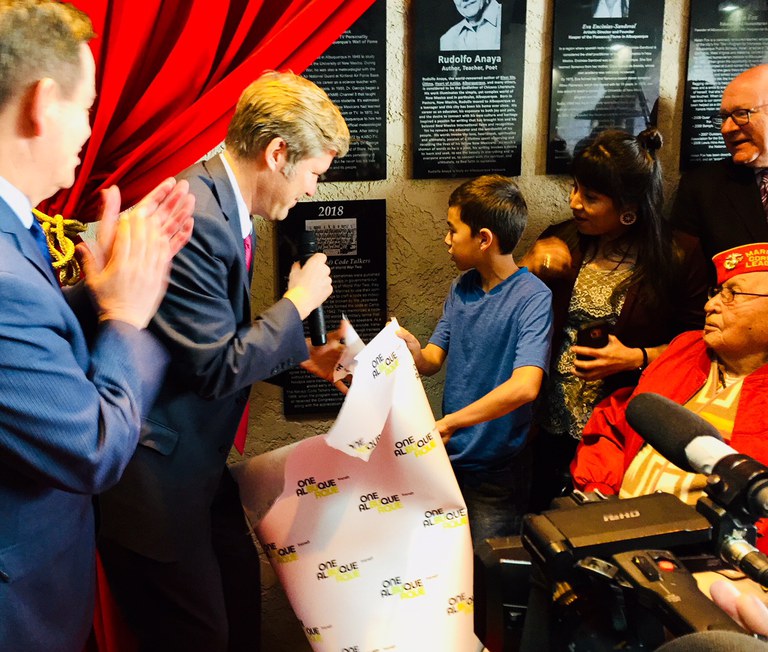 From left: City Council President Ken Sanchez, Mayor Tim Keller, grandson Liam Brown, granddaughter Petulia Vandever, Code Talker Joe Vandever, Sr and ABQ RIDE Director Bernie Toon unveil the Code Talkers plaque on Albuquerque's Wall of Fame.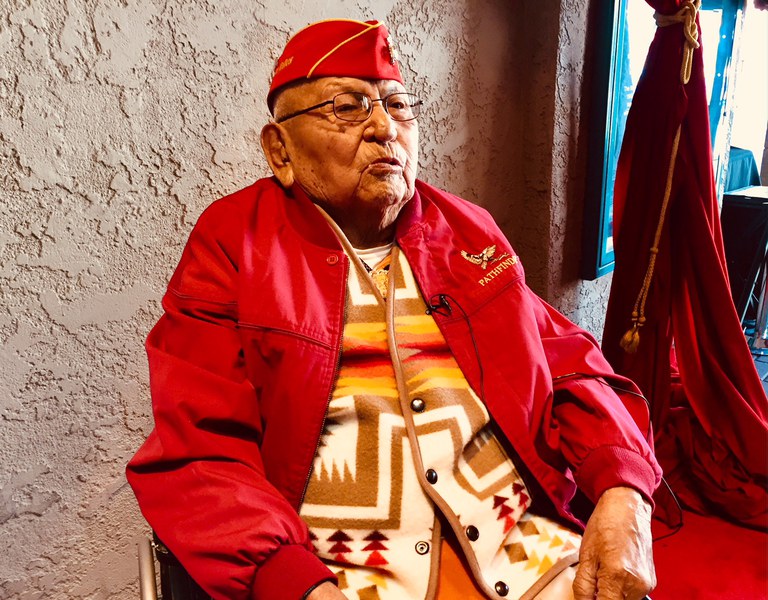 Navajo Code Talker Joe Vandever Sr., the guest of honor at the 6th Annual Albuqerque's Wall of Fame ceremonies.