ABQ RIDE Providing Free Transportation to Veterans with V.A. Hospital Cards
Service to Cardholders Began April 21, 2014
4/18/14
Mayor Richard J. Berry has announced a new program to benefit veterans with specific medical credentials.  Veterans who are enrolled in the Veterans Administration (V.A.) Health Care system and have their Veterans Identification Card will now be able to ride, free of charge, on ABQ RIDE starting April 21, 2014.
Any veteran with a Department of Veterans Affairs identification card or newly issued U.S. Department of Veterans Affairs identification card is eligible for free rides. This also applies to any veterans living in or out of New Mexico, as long as they display a Veterans Identification Card when boarding a bus.
"At the city of Albuquerque, it is our honor to be able to provide this free service to veterans who are part of the VA health care system," stated Mayor Berry.  "Considering the tremendous sacrifices they have made in service to our country, it is a small gesture but one that we hope will be beneficial to them in receiving the medical care that they require."
"VA Healthcare participants will also have more freedom of transportation by this program to the many other services and opportunities within Albuquerque," said Roger Newall, the Veterans Affairs Liaison for Mayor Berry. "And perhaps this program will encourage more veterans to enroll in the Veterans Administration Healthcare System to receive the many benefits and services offered."
Planning for this program began earlier this year between ABQ RIDE and the Mayor's Office of Constituent Services, as a way to get veterans in the area better access to health care. Veterans with the Identification Card who qualify for paratransit service will also be able to receive free rides on Sun Van. Veterans who are not enrolled within the VA Hospital Healthcare System are not eligible for this benefit.
With this program, Albuquerque joins a list of cities such as Chicago, Duluth, Rochester, San Francisco, Oakland and Gainesville, FL which offer free rides to veterans on both fixed route and paratransit buses.
"We are proud to provide this benefit to a most worthy group of citizens," said Bruce Rizzieri, Director of ABQ RIDE. "Now, almost all veterans within New Mexico using the V.A.'s Hospital Services can use affordable, public transportation to get to and from their appointments."
Department of Veterans Affairs identification card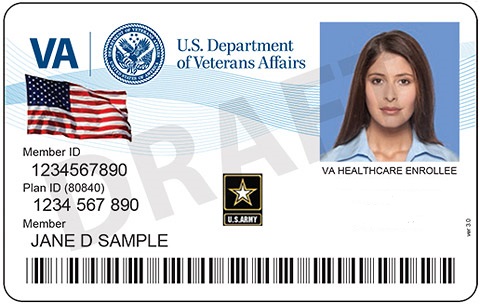 U.S. Department of Veterans Affairs identification card
News Conference on the north side of Civic Plaza announcing Veterans program