Mayor's Collaborative on Mental Heath & Suicide Prevention Amongst Service Members, Veterans and their Families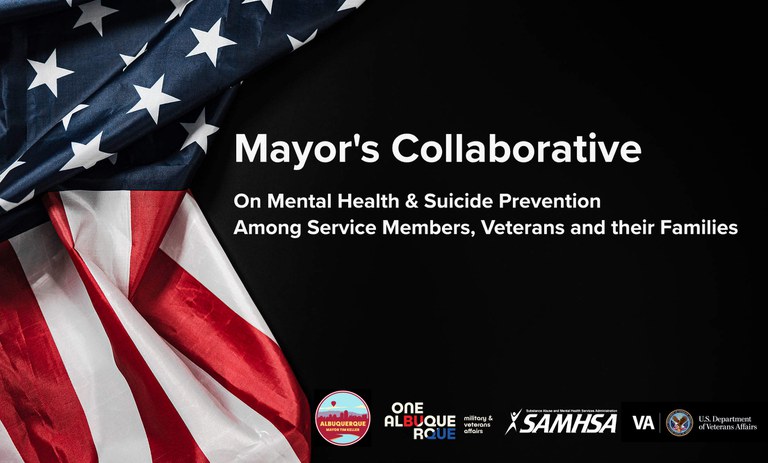 The City of Albuquerque is honored to be participating in The Mayor's Challenge to Prevent Suicide among Service Members, Veterans, and their Families. Participation in the Mayor's Challenge provides us with additional tools to advance our efforts in suicide prevention among our service members, veterans, and their families.
The local Mayor's Challenge is now known as the Mayor's Collaborative on Mental Health & Suicide Prevention among Service Members, Veterans, & their Families (SMVF). The change is due to the connections of Mental Health and Suicide Prevention, our partners in the Mayor's Collaborative utilize the same resources for both categories. We want to ensure that we have a well-rounded and efficient collaboration to work towards solutions.
We are looking for individuals and agencies who can influence policy, program development and change. We are also seeking input from individuals who would benefit from an improved behavioral health care system. We would appreciate seeing you at monthly networking meetings and/or smaller work groups to develop and leverage programming to better serve our Veterans and Service Members.
We are asking you to join us in the Mayor's Collaborative, to be the change agents we need to develop and implement a strategic action plan to work toward eliminating suicide among veterans.
Join Us at our next meetings:
Location
Dates
Time

Los Duranes Community Center

2920 Leopoldo Rd NW

Albuquerque, NM 87104

All Meetings are now conducted through Zoom. Meeting agendas with Zoom details will be posted below.

Feb. 3rd, 2021

Apr. 7th, 2021

Jun. 2nd, 2021

Aug. 4th, 2021

Oct. 6th, 2021

Dec. 1st, 2021

9:00 a.m. - 10:30 a.m.
Meeting Agendas
More Information
To obtain further information about this collaborative, please contact Mr. Thomas Tozier, Constituent Services Representative/Military and Veteran Liaison, at [email protected] or (505) 768-3382.
We look forward to working with you to help Albuquerque's service members, veterans, and their families.
The Eight Point Veteran's Creed:
I am an American Veteran
I proudly served my country
I live the values I learned in the military
I continue to serve my community, my country and my fellow veterans
I maintain my physical and mental discipline
I continue to lead and improve
I make a difference
I honor and remember my fallen comrades
News & Events
ASIST is a two-day interactive workshop in suicide first-aid.
Feb 02, 2019
from 08:30 AM to 01:00 PM
The City of Albuquerque Mayor's Collaborative On Mental Health and Suicide Prevention Among Veterans, Service Members and Their Families, along with the Army National Guard, is sponsoring an Applied Suicide Intervention Skills Training (ASIST) on March 19 and 20, 2020.