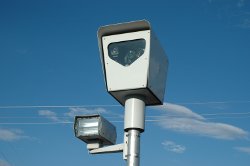 Red Light Study Information
General Information
In 2004, the city launched a traffic enforcement camera program at two intersections – Eubank and Montgomery, and San Mateo and Montgomery. The purpose of the program was to reduce red light running at two of the city's most dangerous intersections. Over the years the program was expanded to 20 intersections and in 2006 a mechanism was added to the system to monitor speed and issue citations. The city also acquired three speed vans to be used in school and construction zones.
In March 2010, newly-elected Mayor Richard J. Berry commissioned the University of New Mexico's Institute for Social Research to conduct a study of the program. The purpose of the study was to examine crashes at all Albuquerque intersections to determine if the program improved public safety. In October 2010 the researchers presented their findings that the Red Light Camera program has moderately improved public safety overall, and also identified areas in which the cameras had either already fulfilled their purpose or were no longer producing the desired results. At the same time, Mayor Berry received a complete report from the city's financial advisors.
As a result of the study, Mayor Berry is revising the program to include the following changes: the cameras will no longer issue speed citations; timing at yellow lights will be increased; more prominent signage and other tools will be utilized at red light camera intersections to enhance notification; the number of cameras will be reduced to 14 with those that are no longer serving their purpose removed; adjustments to red light timings so that they will remain red in all directions for two second before switching to green.
On this web page you can download the study, review the details of Mayor Berry's decision, read the fiscal analysis and get data and charts on crashes and the amount of revenue the program has generated. Each month the web site will be updated to include a report detailing the number of citations and the revenue generated from the program.
Red Light Camera News
No results were found.