Development Review Board ePlan Submissions
Learn more about submitting your Development Review Board application and paperwork through ePlan.
DRB ePlan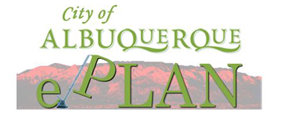 Save time and money by submitting your application and paperwork through the electronic plan review system, called ePlan. It's fast, easy and available to you at no additional charge.
Development Review Board (DRB) ePlan is an electronic plan review process available to developers, contractors, architects, homeowners, and anyone else planning to submit plans to the DRB. 
See the step-by-step instructions for using the new ePlan system for your DRB submission.
DRB ePlan Process
Submit your application and fees to Development Review Services.
Submit a hard copy application to the DRB One Stop Shop at 600 2nd St NW and pay your fees
The City will process your application and send you a confirmation email
Log in to the ePlan system with the information delivered in the confirmation email
View your project and upload your plan with supporting documents
Uploaded documents will be screened and markups will be made by the City
Review the markups and make corrections as necessary
Check the status of your plan review at any point in the process
All approvals will be issued at the DRB hearing
To learn more and get detailed step-by-step instructions, with diagrams and screen captures, to help you use the ePlan system, view the DRB ePlan Applicant Manual.