Reserving an Animal
Information about reserving an animal.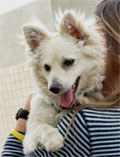 Adoptable Pets
Once received, Animal Welfare staff carefully research your request to see if the animal has been deemed adoptable. To ensure quick and proper handling of your request, we ask that you only submit interest requests on animals that have already been deemed adoptable by Animal Welfare. You can view these animals by visiting the PetHarbor site or by clicking the Adoptable Animals link on our homepage.
If the animal has been deemed adoptable an "Adoption Interest" memo will be placed on the animal. An "Adoption Interest" only ensures the animal will be held in our facility but does not guarantee that you will have the right or the ability to adopt the animal. If an individual who is physically present at our shelter is interested in this animal and the animal has been deemed adoptable, he/she has the right to adopt the animal even though we may have record of other interested adopters. An "Adoption Interest" memo is only valid through the next shelter business day. Once the shelter business day has closed, the "Adoption Interest" memo is no longer valid and the record of your interest is archived.
Pet Adoption Information
Any time you adopt an animal from any animal shelter, there is a certain medical risk. Each animal is medically assessed when it is admitted to the shelter. An animal may be incubating a disease at the time of admission or adoption without showing any clinical signs of disease.
In order to be considered as a suitable adopter, we require the following:
You must be at least 18 years old; show a valid driver's license or photo ID with your date of birth; and present proof of your current address
You must have the knowledge and consent of all adults living in your household
You must be able and willing to spend the time and money necessary to provide training, medical treatment, and proper care for the animal
If renting, you must have the knowledge and written consent of your landlord
No more than six animals per household, of which no more than four may be dogs, are permitted in the City of Albuquerque
Adoption Fees
See our main Adoption page for information on Adoption Fees.
Animal Welfare Department Right of Refusal
Please understand that this is an adoption, not a "sale." The City of Albuquerque Animal Welfare Department reserves the right to postpone or refuse an adoption to persons not meeting the selected adoption criteria of our animals.