Wells Park Spray Pad
Location:
500 Mountain NW
Albuquerque, NM 87102
Directions: Mountain Road, just east of 5th street.
Phone: (505) 848-1390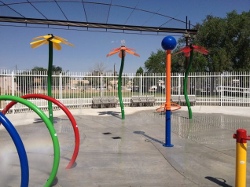 Wells Park is a spray pad with water features.
Spray Pad Hours
Open June 28 through August 6, 2021.
No Private Rentals
Wells park is open to the public at the following times:
Public Recreation Times
Monday - Friday: 10 a.m. - 5 p.m.
Saturday: 9 a.m. - 1 p.m.
Sunday: closed
Please call Wells Park Community Center for more information: (505) 848-1390