Open Space Volunteer
Find ways to volunteer with Open Space.
Trail Watch Volunteer Program
For upcoming Trail Watch and Adopt-an-Open Space events, visit our calendar.
Trail Watch Volunteers are the foundation of the volunteer program - essentially, all volunteers are trained to be Trail Watch. Trail Watch is ideal for those volunteers who enjoy using the trails. Often referred to as Open Space "eyes and ears", these volunteers patrol areas of their choice and record observations, report problems and needs, and educate the public on proper resource use.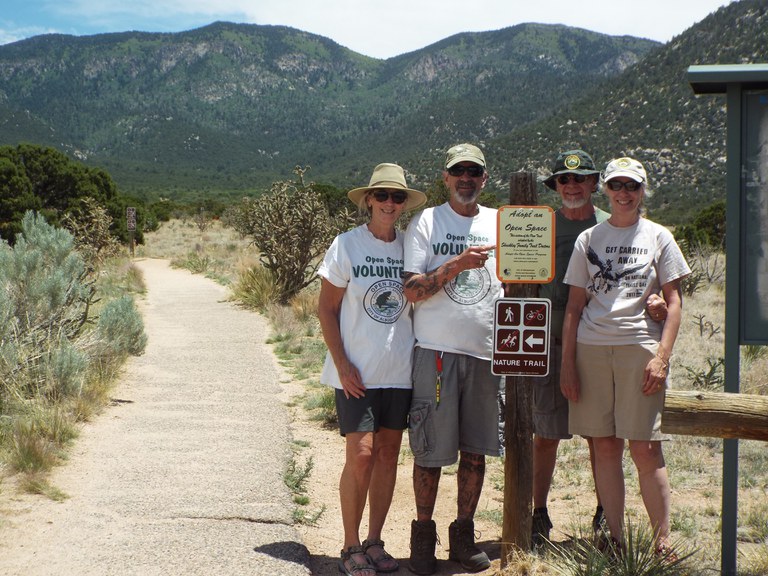 Trail Watch Volunteers:
Report observations such as flora and wildlife sightings and visitor activities
Notify the Division of maintenance needs and law enforcement issues
Educate and guide the public to be stewards of our environment
Assist with conservation projects
Adopt an Open Space
This program was formed to concentrate stewardship in a targeted area. Trail Watch Volunteer duties are applied, but adopters also agree to organize at least one group project per year. Some areas may require more scheduled projects within a year. In the foothills, individuals or groups can adopt trails and assist with the essential maintenance of these visitor corridors. In the bosque, groups of 10 or more can adopt restoration areas and help with non-native plant control and trail maintenance. At the City's expense, a sign is installed in the adopted area recognizing the adopters efforts.
For more information:
Getting Started
All volunteers attend a two-hour orientation that provides background on the Open Space Division, volunteer responsibilities, and addresses issues of law enforcement. Volunteers are required to contribute a minimum of 25 hours per year and complete two additional trainings or attend two programs of the individual's choice. All volunteers receive a packet with maps, brochures and information, a badge, a lanyard and a patch; after completion of 25 hours volunteers receive an official Open Space Volunteer t-shirt.
Required Background Screening: The City must take reasonable precautions to ensure the safety of everyone in our parks, including park users, volunteers, and City employees. To do that, all volunteers with the City of Albuquerque must be screened by the City to determine their suitability to participate in City programs. Volunteers who are convicted sex offenders are not eligible to be volunteers for the city. Volunteers with other convictions or pending charges will be reviewed on a case-by-case basis and will be considered for a volunteer position if they do not pose a threat to the public or vulnerable populations.
Open Space Visitor Center Volunteers
Open Space Visitor Center Volunteers are trained to:
Greet visitors and tell them about the Visitor Center
Introduce visitors to changing educational and art exhibits
Work in the demonstration gardens
Assist with programming and events
Describe the history, purpose and goals of the Open Space program
Encourage visitors to explore Open Space lands
Observe and interpret the Visitor Center's wildlife and plants
Learn and share: The geography of the Open Space system, the history of the Piedras Marcadas Pueblo Village, the natural and human history of the Middle Rio Grande Valley
Testimonials:
"I became a volunteer because I enjoy the atmosphere at the Visitor Center."
"The staff gives me the freedom to see a need, make a plan, and create a solution! Something I couldn't do in my paid job."
"I keep coming back - the community of Open Space is a definite positive in my life."
"The Open Space Visitor Center is a magical place."