Spur Line Trail
Multi-use trail that would connect downtown Albuquerque to the Sawmill District via an existing rail spur line
History
The Rail Spur Trail Feasibility Study, commissioned by the City of Albuquerque Parks and Recreation Department, examines the potential of a multi-use trail that would connect Downtown Albuquerque to the Sawmill District. The multi-use trail would be installed along an existing rail spur line that runs North, parallel to First Street to the rail spur that extends West of the Sawmill District, a distance of approximately 2.25 miles. The "Spur Line Trail" would connect to the larger network of multi-use trails, provide better connections for commuters, increased recreational opportunities for workers and residents, and create overall economic enhancement to the City of Albuquerque.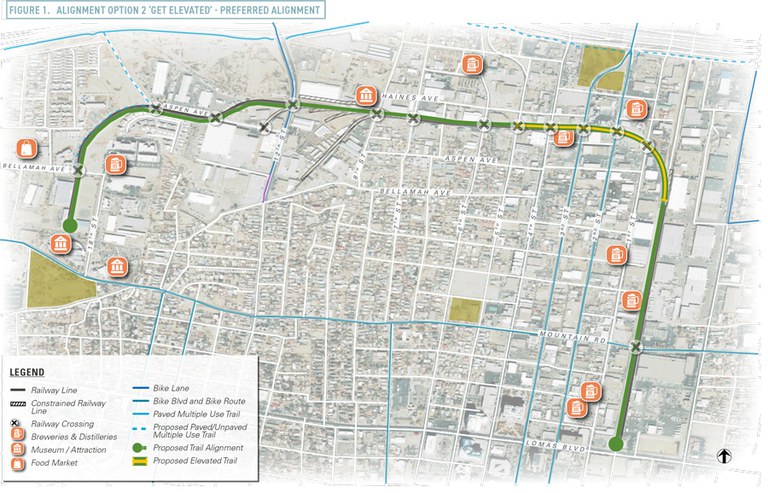 Community Engagement
The project team held three community stakeholder meetings to gather input on the proposed trail. The first meeting included City personnel from applicable departments. The second meeting was held with business and property owners within the study area and the third meeting was held with property owners and Neighborhood Association representatives in the study area. All participants in the community convenings strongly supported the project with many citing the significant economic growth potential from a multi-use trail in the area. Of the three proposed trail alignments the project team presented, "get elevated" was selected as the preferred route amongst the community stakeholder participants. 
Business & Entertainment
The Spur Line Trail would connect some of Albuquerque's largest visitor sites including the cluster of museums near Mountain Rd, Old Town, the Rail Yards, and the Convention Center. It would also establish connections to some of Albuquerque's most popular breweries, including Marble Brewery, Dialogue Brewing, Bow and Arrow Brewing, Rio Bravo Brewing, Tractor Brewing and Ponderosa Brewing. The Spur Line Trail would offer Albuquerque a great deal of economic revitalization, bringing local, small businesses to an underutilized corridor of the City.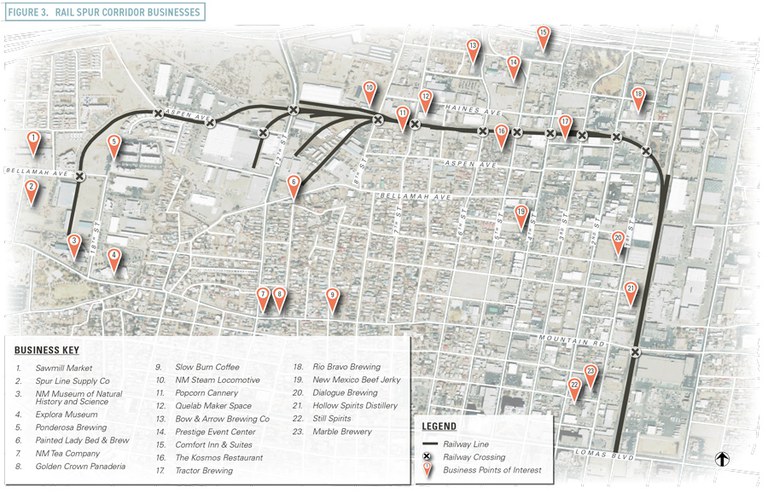 Next Steps
While there is no proposed budget or timeline for the project, we encourage you to read the full report below. Questions or comments about the study can be sent to [email protected]