Revamp Route 66: Sign Improvement Grant Program
The Revamp Route 66 Sign Improvement Program strives to preserve an important era of Albuquerque's development through the restoration or renovation of Route 66 neon signs.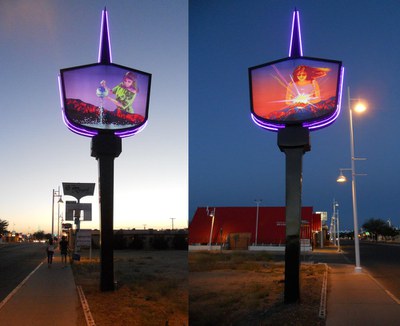 November 11, 2026, marks 100 years of Route 66! Albuquerque's eighteen miles of historic Route 66 is the longest urban stretch of the route in the U.S. Route 66 is a vital cultural and commercial corridor that City seeks to honor, improve, and celebrate.
As Albuquerque approaches this important milestone, the City of Albuquerque Department of Arts and Culture (DAC) and the Metropolitan Redevelopment Agency have collaboratively developed a Sign Improvement Program. The Sign Improvement Program seeks to restore historic neon signs along Route 66 by granting restoration funds to property owners who are interested and able to complete sign restoration by Fall 2025. A total of $432,000 is set aside to accomplish restorations of signs along Route 66—Central Ave.
The Sign Improvement Program will take applications submitted by property owners between August 7 and October 15, 2023. Funding is awarded on a competitive basis with an emphasis on projects that can be completed within the next two (2) years.
---
APPLICATION INFORMATION – HOW TO APPLY
Step 1: Review the Following Supporting Documentation
Program Overview for all grant eligibility criterion
Step 2: Verify the sign you are applying for is eligible (must meet all both criterion, below):
The sign is a free-standing sign and directly adjacent to Central Avenue (the sign must not be attached to a building).
The Property is directly adjacent to Central Avenue between Tramway Boulevard and 86th Street
The Property is within a Metropolitan Redevelopment Area. The address can be typed into the search bar here. 
Step 3: Determine Sign Improvement Cost – contact and assemble all contractor quotes
Step 4: Apply. The application package must include the following:
Completed Application Form;
Current image of the sign for which the application applies to;
A map identifying the sign location as it related to the property;
Proof of property ownership (Property Deed or real estate contract)

A notarized authorization letter by the property owner must be included in addition to the above.

Project Cost Sheet with all supporting vendor/contractor quotes (including, but not limited to, labor, material cost, design services, and permitting fees);
A project timeline support by vendors/contractors;
Conceptual drawing of sign in its future improved state.
Submit the application, online, by clicking the link below titled "Submit Your Application".

All application materials must be uploaded as one project folder or pdf. Please label/identify the project folder or pdf as the address of the property.
Please label all files within the project folder accordingly.
---
WHAT AREA IS ELIGIBLE?
In order for a sign to be eligible, it must fall within a 1) Metropolitan Redevelopment Area, identified by the colored areas and 2) be directly along the north or southside of Central Avenue.

---
APPLICANT ELIGIBILITY
Applicant must be the property owner(s) or commercial lessee(s). If a lessee, the application must include a notarized letter of authorization with property owner signature.
Lessee's seeking to apply must apply with property owner as co-applicant(s).
Property Owner shall provide proof of ownership (deed or real estate contract).
---
WHO DO I CONTACT WITH QUESTIONS?
For application questions:
For design inspiration and other sign related information:
Friends of the Orphan Signs Project Director, Lindsey Fromm: 

[email protected]

, (916) 759-6014
For sign regulations, permitting process, and to schedule a design consultation:
For media inquiries:
---
HELPFUL RESOURCES
Route 66 Sign Improvement Key Info Presentation
Route 66 Sign Company List - Please note that the City of Albuquerque does not endorse any of the companies listed. This is only meant to help support the efforts of interested applicants and is not comprehensive. Applicants must select and work with the companies of their choice.
---
FAQ
Can I submit for reimbursement of a sign I recently renovated? No
Is there a maximum amount of funding I can receive? The intention of the City is to award the maximum number of projects with the available funding - $432,000
Does the sign attached to my building qualify? The sign must be a free standing structure.
If there is no sign on my property, can I build a new one? This grant is only for existing free standing signs.
Are there dimensional requirements? Not a part of this program, but all projects must follow the existing City code standards.
When will selected projects be announced?  September 2023.
My property is in the County, can I apply? Unfortunately, no. The funding only applies to properties within Albuquerque city limits.