2023 Multicultural Arts Festival
Display your art showing diverse cultures of the world at Singing Arrow Community Center in our 1st Annual Multicultural Art Festival.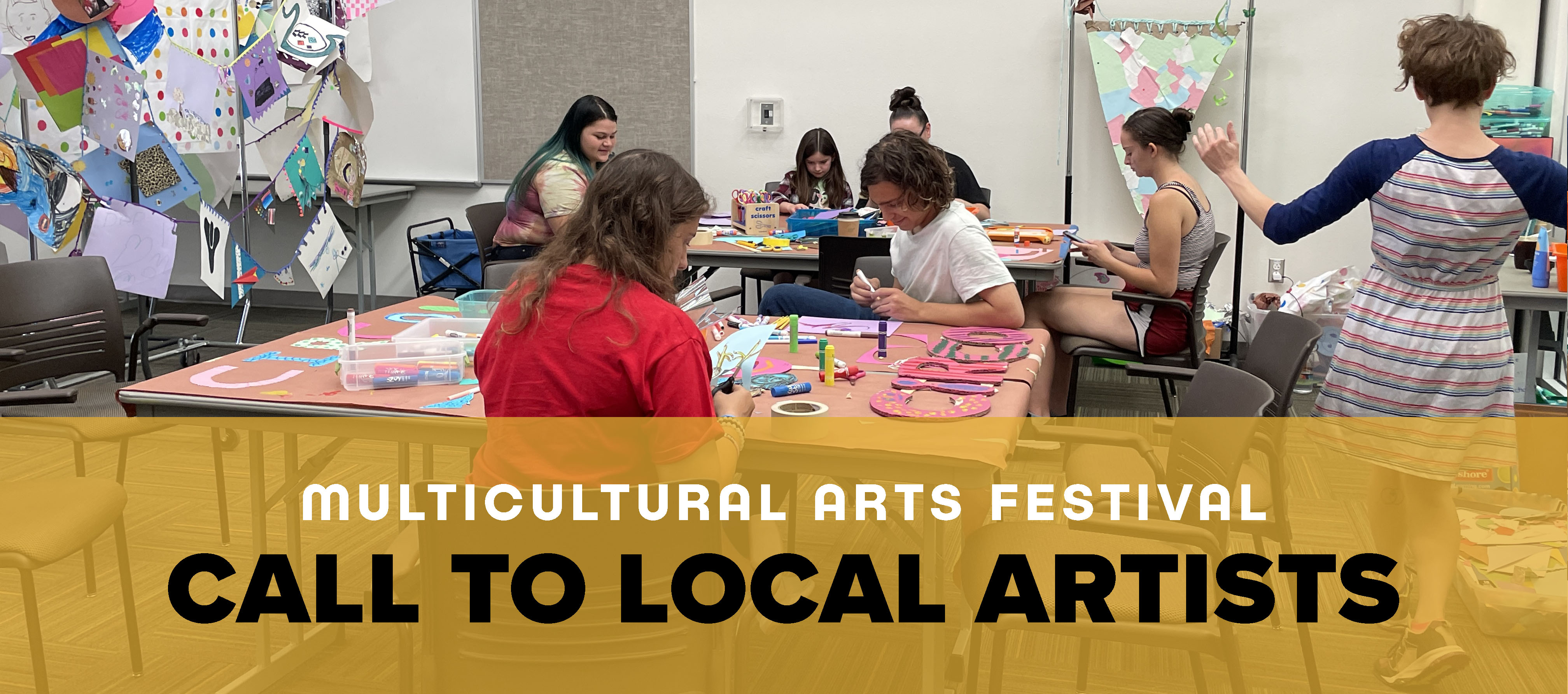 Thank you for your interest in the multicultural arts event! The Singing Arrow Community Center is seeking artists and artists teams to display art for our "Colors of the World" theme to educate the community through a variety of local art representing the artists culture and background
Display and/or sell artwork encompassing a richness of culture and showing the diversity Albuquerque. The festival will provide an opportunity to sell or give knowledge on both your art and the culture behind the piece. This is not a juried event and application spots are limited.
Multicultural Art Festival Artist Submission Form
Submission Process
Obtain a Free membership to provide contact information.
Submit your artist interest form by April 28, 2023.

Upload 1 to 3 JPG files of work you would like to display/sell.
Provide the following for each image:

Title
Media
Dimensions (HxWxD) or description of activity.
Description of cultural influence. If work is presented as part of a collaboration, explain your role in the larger project (250 words max/1 page).
Do you require an electrical outlet? (spots limited)

Once artwork has been reviewed to meet criteria you will receive a confirmation email and payment can be made.
Confirmation email must be received prior to making payment.
Receipt and confirmation email with further instructions.
Selection Criteria
Artwork displayed is at the sole discretion of the City of Albuquerque and content deemed not appropriate for public audience will not be displayed.
Artists may display multiple styles of artwork at their table.
Not exceeding 2ft x 6ft unless multiple tables are purchased.
Art must have a relevance to culture/cultural background to fit within the theme.
The artwork displayed must be appropriate for the public realm.
The following types of artwork will be considered:
Pottery/Ceramic
Un/Framed artwork
Acrylic, Watercolor, oil, charcoal, etc.
Jewelry/Metalwork
Photography
Glass Arts
Sculpture/3D
Fiber Arts/Weaving
Woodworking/Artisan
Prints, no 3rd party resells
Set Up & Cost
The event will be on Saturday May 6th, 2023 from 10 a.m. to 2 p.m. Artists will install and de-install their own work. Doors for artists will open prior to the event at 8 a.m. and be open until 4 p.m. There will be no later and no Earlier for set up and clean up time. 
Table dimensions are 2ft x 6ft. The cost per one table and 2 chairs is $20.00.
No wall space/hanging of items of any kind will be allowed. Please be descriptive in what is needed. Electrical outlets and tables are limited and on a first come first serve basis. We can not guarantee these for all artists.
Legal / Liability Waiver
I understand that the art being submitted by me will abide by policies and procedures being set by the City of Albuquerque. It is my understanding that any and all work being displayed will be appropriate for the public realm. If the art is not deemed appropriate it will not be displayed during the event. It is my sole responsibility to install and de-install my own work in the time parameters that are given. I understand that my area will have limited access based upon how many tables that I may purchase. Upon finishing the event, I agree to leave the space in the same or better condition than what it was found in. I have read and agreed to all rules in the Call to Artists criteria and COA policies and procedures. Artists are encouraged to offer their works for sale, but are not required to do so. All sales are handled privately between the artist and the buyer. The City of Albuquerque does not take a commission on any works sold during or after the event.