Paseo del Volcan
Paseo del Volcan is an essential long-range need for our region.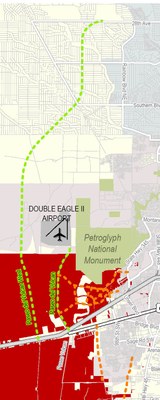 Preparing for this road now will encourage good quality, well-planned development for the west side of the region in the future. This will open up the possibility of future employers and in turn address the jobs/housing imbalance and congestion. It's time to move this project from the back burner to the front burner.
Contact
If you have any questions about this project and the on-going planning effort, please contact Councilor Borrego's assistant, Susan Vigil, at 768-3189 or [email protected]. 
We can coordinate an informational presentation at your neighborhood association meeting.
History and Completed Steps
Identified as an essential project in MRCOG's 2035 Metropolitan Transportation Plan
Environmental Impact Statement, a federal requirement, was completed in the early 2000's.
Preferred alternative has been selected
NMDOT has contributed $4 million towards the purchase of right-of-way in the northern-most portion
30% of the roadway has been designed
Two lanes of the road have been constructed in Rio Rancho from US550 to Unser
Steering Committee Meetings
Supporting Documentation
Download
Description
Final Report
Paseo del Volcan Corridor Final Report - Analysis of Economic Development Opportunities
Brochure
Paseo del Volcan Brochure. Prints double sided on 11x17.
Steering Committee Presentation
11/07/2014 - Presentation made to steering committee regarding the economic opportunity analyses and implementation strategy

Steering Committe

e
Councilor Lewis' request that the Mid-Region Council of Governments form a steering committee.
R-12-119
Legislation adopted on February 4, 2013 by the City Council establishing Paseo del Volcan as a priority and calling on all entities in the region to work together.
Original Presentation
Gives background information on this project. Councilor Lewis has given this presentation to elected officials, neighborhood leaders and private entities to help them understand the importance of completing this road.
Project Status Update
11/07/2014 Steering Committee Meeting #5
6/27/2014 Steering Committee Meeting #4
4/4/2014 Steering Committee Meeting #3
1/15/2014 Steering Committee Meeting #2
11/20/13 Steering Committee Meeting #1
10/21/13 Planning meeting for first steering committee meeting
6/4/13 Met with MRCOG and NMDOT Engineers
5/23/13 Discussion with City Staff regarding city-owned right-of-way
5/9/13 Long-range planning discussion with Council Staff and MRCOG staff
4/15/13 Met with Mayor Swisstack and MRCOG
2/14/13 Met with Sandoval County Commissioners
2013 Legislative Session – requested funding for rights-of-way purchases from state legislatures; Received $510,000.
2/4/13 Adopted Paseo del Volcan Resolution, R-12-119
1/30/13 Met with Rio Rancho Councilors
1/24/13 Met with Rio Rancho Mayor Swisstack
1/9/13 Presented information to West Side Councilors and Commissioners
1/7/13 Introduced R-13-131 that established Paseo del Volcan as a legislative priority
12/19/12 Discussed possibilities of a public-private partnership with property owners in the area
12/17/12 Introduced Resolution R-12-119 at Council
12/6/12 Met with State Senators and Representatives
12/5/12 Met with the New Mexico Department of Transportation
11/29/12 Met with Gary Tonjes with Albuquerque Economic Development
10/15/12 Met with the Mid-Region Council of Governments
9/17/12 Met with Albuquerque Councilor Ken Sanchez, Bernalillo Commissioner Art De La Cruz and Albuquerque Mayor Richard Berry
8/20/12 Met with Albuquerque Department of Municipal Development Director Michael Riordan
Get Involved
Contact your elected officials and tell them that they need to plan for our region's future by making this project a priority!
"If implemented Paseo del Volcan would create a major transportation corridor with efficient access to developing properties on Albuquerque's west side and in Rio Rancho. Paseo del Volcan will facilitate and provide for orderly development in a rapidly growing area of Bernalillo and Sandoval Counties, and improve the roadway capacity to other existing and planned transportation facilities within the northwest subarea." NMDOT when filing the environmental impact statement with the Federal Highway Administration.