Silver Avenue - Bicycle Boulevard Improvements
Information about the Silver Avenue – Bicycle Boulevard Improvements
UPDATE: Review the Silver Avenue Signing and Striping Plans
Silver Avenue was designated a Bicycle Boulevard by the City Council in 2009. Bicycle Boulevards are generally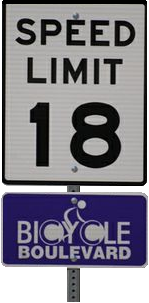 characterized by low speed limits, free flow travel for bikes through intersections, and signs or markings that alert motorists that bicyclists are the priority user on what is intended to be a "bike expressway."
Feedback received since the Bike Boulevard was created suggests that it may be falling short of that goal, however, due to heavy motor vehicle traffic, multiple stop signs and difficult arterial crossings.
In May of 2015, former Councilor Rey Garduño began a study of Silver Avenue Study that was in part prompted by the modifications to Central that are proposed as part of the Albuquerque Rapid Transit (ART) Project and community concerns about its potential effects on Silver Avenue. The goal of the study was to identify improvements that could be made to Silver Ave. to better serve bicyclists. It recommends many changes to the corridor, including:
Relocation of stop signs,
Traffic calming tools such as traffic circles at intersections
Redesign of on-street parking
Improvements to arterial crossings, such as Girard and Carlisle, to make them more navigable by less-experienced cyclists.
The next step is to take the conceptual improvements proposed in the study and create the engineering documents required for actual implementation. The first phase of implementation of these improvements is proposed to occur between Carlisle and Yale Boulevards.
Purpose of the Project
The purpose of the project is to study deficiencies implement improvements for all transportation modes on Silver Ave. between Yale Blvd. and San Mateo Blvd. with a focus on Silver's designation as a Bicycle Boulevard.
What Kind of Data Was Collected?
The Silver Avenue Study began with data collection:
Vehicle, pedestrian, skateboard, and bicycle counts
Crash data collection
Speed data collection
Walking survey
Public testimony
Feedback from various community groups
Silver Avenue Study: September 28, 2015 Public Meeting Documents

Next Steps
In March the engineering firm will conduct a survey of Silver so that in April the engineers can commence with construction drawings for the medians, traffic circles and parking changes. They will have construction ready plans completed and approved by July and hopefully in late September construction can begin. The goal is to complete construction before the ART Project construction reaches University Boulevard in early 2017.
Review the Plan
You can review the Silver Avenue Plan.
Project Contacts
Tom Menicucci, City of Albuquerque, City Council (Project Manager), 505-768-83126
Sean Foran , Policy Analyst for City Councilor Davis, 505-768-3152