Neighborhood Infrastructure and Reinvestment Projects
Infrastructure and reinvestment projects in District 6.
Kathryn & San Mateo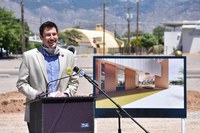 In 2015, Councilor Davis used city councilor set aside funds to purchase the unused shopping center and begin a community process to redesign and rebuilt it for community services. The approx. six acre site has been identified by the community for housing, parks, public safety and health center services. Councilor Davis announced that his office will work with the South San Pedro Neighborhood Association to schedule community meetings on planning once public meetings are allowed.  
Current Status: Dual phases of fundraising and community planning are underway.
Funding: As of January 2021, Councilor Davis has raised more than $1.5 million through city bond programs and state legislators' capital outlay allocations.
The city's current capital budget includes $7m for the site, subject to approval by the full council and voters in November 2021. The site is likely to include green space, a public safety facility, housing, and a community support facility. '
International District Library
After more than a decade of planning and fundraising, Councilor Davis used councilor-directed set aside funds to purchase the old Caravan Nightclub as the site for the new International District Library. After two more years of additional design and fundraising, construction is finally underway. The regional library will also include green space and a story book plaza.  
Funding: $12+ million from city council directed set aside funds, city GO bond funds and state legislator capital outlay.
Scheduled opening: Winter 2021
Loma Linda Community Center
The Loma Linda Community Center and Therapeutic recreation center is currently in the planning process for an upgrade to include a community gym. 
Funding: The City's 2021 GO Bond proposal includes an additional $2M, supported by Mayor Keller and Councilor Davis, to start this project.  Residents can contact councilors to ask them to support this request in the final project list voted on by council in the spring of 2021.
Asian and Pacific Islander Community Center
After being approached by the Asian Family Center to apply for capital outlay for the long proposed Asian and Pacific Islander Community Center and committing seed funds, the legislature allocated funding to begin the planning process and purchase land. The City is currently working with Architectural Research Consultants (ARC) and an established steering committee of Asian and Pacific Islander groups to do a needs assessment and create a plan for the space.
Parkland Hills Sidewalks & ADA Compliance
In 2018, Parkland Hills Neighborhood identified sidewalk improvements as their top infrastructure priority.  Working with State Rep. Sheryl Williams Stapleton, the representative and councilor secured funding for the project and added additional city funding to complete it and overdue street rehab projects across the neighborhood. 
Current Status: Complete.
Lead and Coal Traffic Safety
The University Heights and Nob Hill neighborhoods have long sought an answer to the speeding and accidents that occur on Lead & Coal. Beginning in 2018, our office completed a traffic study which identified speeding and accidents along the corridor. 
During the next two years the Lead & Coal Safety Brigade worked with the Mayor's office which eventually timed the lights to 30 MPH and added more signage. As problems have persisted, we have recently again taken the lead by initiating a study and design to add "rest in red" signals to Lead and Coal that only turn green if the vehicle is approaching at the appropriate speed.  
Current Status: Engineering study underway.
Funding: Councilor Davis has allocated councilor set aside funds for the engineering study. Total cost is unknown.
East Central Pedestrian Safety Work
After finishing long-stalled pedestrian improvements to the Zuni Road corridor, Councilor Davis began working with neighbors and city staff to evaluate East Central, another of one of New Mexico's most dangerous urban roadways. 
In order to find the most effective ways to address the issues, the Councilor used councilor-directed funding to hire an engineering firm to establish a priority list of modifications to improve the situation. Currently the City is working to add additional pedestrian scale lighting, add a lane buffer, and add two more HAWK signals.  Commissioners Maggie Hart Stebbins and Jim Collie worked to add an additional HAWK crossing at Central and Texas, near the UNM Health Center and Indian Center.
Current Status:  Study complete. Engineering designs underway.
Funding: Councilor Davis has allocated councilor set aside funds and ¼-cent transportation funds for this project.  
Expected work date: Phase 1: 2021
Nob Hill HAWK Crossing & Medians
The Nob Hill Neighborhood Association and Nob Hill Main Street (merchants association) identified the addition of a new signalized Central Ave crossing as their top priority for the 2020-21 capital budget cycle. 
In order to facilitate crossing the Nob Hill area, the City is installing a HAWK signal near Tulane and medians throughout the Nob Hill corridor. The medians are underway and the HAWK signal is expected to finish design in February or March and be installed as soon as equipment is delivered.
Current Status: The medians are underway and the HAWK signal is expected to finish design in February or March and be installed as soon as equipment is delivered.
Funding: Councilor Davis allocated funds from city councilor set aside funds for this project. Additional funding was added by the mayor's administration. 
Copper Ave Walking Path
In order to have a safe place to walk along Copper Avenue, the South Los Altos neighborhood lobbied area legislators for funds to push back the Los Altos Golf Course Fence and create a walking path to make pedestrian access for children and other residents more safe.
Current Status: Construction complete.
Funding: State legislators including Sen. Mimi Stewart and Rep. Debbie Sarinana sponsored appropriations for this project.  Councilor Davis sponsored the project for the city's capital and legislative priorities.
Lighting Upgrades
Following the conversion of the all City owned lights to LED lights, Councilor Davis began a process to add additional street lighting. Working with the County a priority list was established by looking for both dark locations and crime hot spots. Since then midblock lighting has been continually added around the district. 
Additional mid-block lighting locations have been identified as funding is available. Neighborhoods can request capital outlay from their state legislators for this project.
Community Planning Area Process
As part of the Integrated Development Ordinance (IDO) the City established Community Planning Areas Assessments. Long Range planning staff works with stakeholders in each of the City's 12 Community Planning Areas in an ongoing 5-year cycle to identify and recommend changes to policies, regulations, and implementation projects. The Near Heights area bordered by I-25, I-40, and Wyoming is the first area. The process is beginning in the spring.