Homelessness
Housing resource projects in District 6.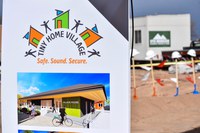 Compassion Center
The City and County have worked with Rev Joanne Landry of the Trumbull Neighborhood to build out and set up the Compassionate Care Center to services to those in need. 
Tiny Home Village
A County led project, the Tiny Home Village is about to come online at the Albuquerque Indian Center.  This 40+ person center will provide transitional living services for homeless persons seeking long-term housing.  It is co-located with the Albuquerque Indian Center in the Trumbull Neighborhood and is a joint project of Commissioner Debbie O'Malley and Councilors Pat Davis and Diane Gibson who have all contributed discretionary funding.
Gibson Center
The City is in the process of purchasing the Gibson Medical Center in order to create the City's first Gateway Center. The details of that center are currently being developed, with the largest impute being the number of beds available at the center. The City established the Homeless Coordinating Council to have a unified plan moving forward on addressing homelessness. 
Adding overnight services to the location would require either a zone change or conditional use permit, both of which allow for neighborhood input under the IDO and appeals to the city council if the neighborhoods do not agree with the mayor's plan.
Councilor Davis has requested that the administration present a plan, to include an overnight bed cap not to exceed the number of persons who can move to permanent housing (ie, no "warehousing" of the homeless), to the council before requesting final approval on the purchase. 
The final site plan should also include a strategy to reactivate the unused portions of the campus for non-profits and community services, in addition to the health care services already sited there. 
Neighborhoods are encouraged to contact the mayor to request an opportunity to weigh in on that plan before the mayor presents it to the council.