Volunteer for Duke City Leadership Lowrider Bike Club
Information about volunteering and mentoring.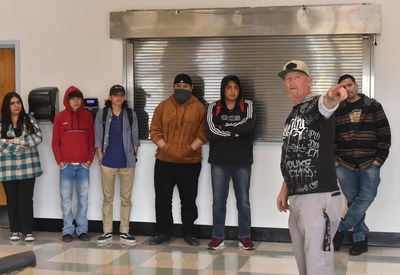 The Duke City Leadership Lowrider Bike Club is a positive youth development after-school program aimed at creating a safe space for students,members of the low rider community, local law enforcement, and community mentors to come together to share their experiences, creativity, culture, and expertise in a way that addresses community issues. The program is designed to foster positive community engagement and use the community policing model to bring the community and law enforcement together for a common goal.
Review the Press Release about the Club
How it works: 
​Students registered for the program will be teamed up with mentors to assemble lowrider bike kits and customize them as they learn new skills.
Students will work with mentors and teachers to keep up their grades and excellence in school.
Students will be introduced to local community groups, events, competitions, and other opportunities to exhibit their bikes and hard work
Once students graduate from high school they will be able to keep their lowrider bikes. 
Every Tuesday for 2 hours from 3:00 - 5:00 PM at Old Westgate Community Center (1400 Snow Vista Blvd. SW, Albuquerque, NM 87121)
Middle school and high school students are eligible to participate in this program, but the City is exploring opportunities to include elementary school students as well. 
The building, customization, and showcasing of lowrider bikes serves as a "vehicle for change" for empowering Albuquerque's youth and supporting their families, friendships, and career pathways.
Background
​The Duke City Leadership Lowrider Bike Club follows the success of the APD Youth Leadership Lowrider program. APD's Southwest Area Command's PRT Team worked with youth from around Albuquerque to rebuild an out-of-commission police vehicle into a lowrider representative of the Albuquerque car culture. The Lowrider Bike Club will continue the community building from the Lowrider car and follow the lead of the Olathe, Kansas Police Department that has successfully ran a similar Lowrider Bike Club for many years. The Duke City Leadership Lowrider Bike Club is funded by a $20,000 grant from the Drug Enforcement Agency's Operation Engage Outreach Program and $5,751 from City Council constituent funds.
Volunteer
The City is also looking for mentors and volunteers for the program. Police officers, Firefighters, social workers, community safety responders, peer supports, athletes, small business owners, teachers, lowriders, and family members are all encouraged to volunteer. If you are interested in volunteering please provide the following information: