Santa Barbara - Martineztown Pedestrian Improvements
Information about the Santa Barbara Martineztown pedestrian improvements project.
Project Map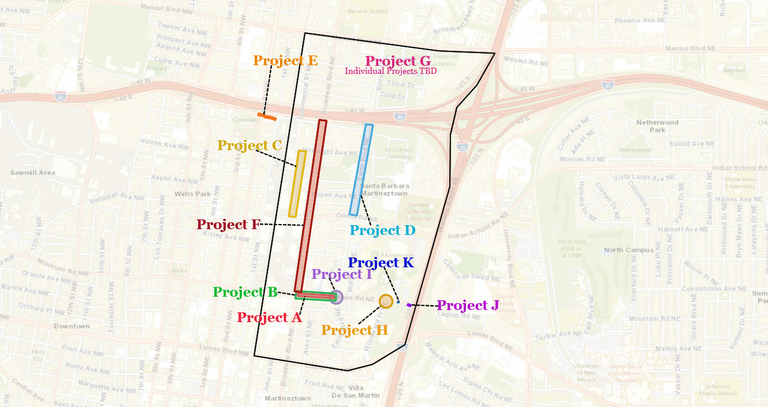 The Participatory Budgeting voting was completed in September.  Thanks to all who voted!  The ballots have been tallied and the winning projects, in order of preference are:
1st Choice:       Traffic circle at Mountain Rd and Edith Blvd (note that this project will require further study, design, and funding)
2nd Choice:      Widen sidewalks and restripe Mountain Rd between Edith Blvd and Broadway Blvd
3rd Choice:      Restripe Mountain Rd. between Edith and Broadway to narrow the roadway.
4th Choice:      Restripe Broadway Blvd between Mountain Rd and I-40
We will be planning a public meeting in January to discuss next steps and timelines.  Additionally, Councilor Benton will be requesting state capital outlay to increase the funding available for implementation of these projects.
This project began at the neighborhoods request, with specific areas of concern identified by members of the community. At study which included additional neighborhood input, was completed:
Participatory Budgeting
Councilor Benton will be utilizing a participatory budgeting process to determine neighborhood priorities for projects, both short-term and long-term.
Last year, Councilor Benton used District 2 set-aside funds to complete a traffic study for Santa Barbara Martineztown. That study included recommendations for improvements in the neighborhood. This year, asked residents, business and property owners in the neighborhood to vote for the projects they would like to see prioritized.
We Used Four Methods for Voting:
Online Ballot
Mail-In Ballot
Email Ballot
In Person Voting


Schedule

Kick-off meeting Thursday, July 26 at 6 p.m.
Voting hours Saturday, Aug. 4, 11 a.m. – 1 p.m.
Voting hours Saturday, Aug. 11, 11 a.m. – 1 p.m.
SBMTNA meeting Thursday, Aug. 16 at 6 p.m.
Voting hours Saturday, Aug. 18, 11 a.m. – 1 p.m.
Semillas y Raices meeting Tuesday, Aug. 21 at 6 p.m.
Voting hours Saturday, Aug. 25, 11 a.m. – 1 p.m.
Materials
Eligibility to Vote
All residents (12 years or older), business owners, and property owners in Santa Barbara Martineztown were eligible to vote. The neighborhood boundaries are Lomas to the south, Menaul to the north, railroad tracks to the west, and I-25 to the east.
In order to vote, proof of the eligibility was required, which included providing identification and proof of residence, business, or property ownership in the neighborhood. Individuals were not required to be a citizen or a registered voter.