District 2 Newsletter
August 31, 2019 Newsletter from City Councilor Isaac Benton
Hello Neighbors,
The next Council meeting is Wednesday, September 4 at 5:00 pm in Council Chambers, basement level of city hall:  Agenda.
Boards & Commissions Vacancies
The District 2 position on the Parks & Recreation Advisory Board is vacant.  Click here for information about the board and to apply.

To learn more about other boards and commissions and to apply to serve, visit the Boards & Commissions page.
Project Update: Rio Grande & Candelaria Roundabout
Construction of the roundabout is expected to be complete within two weeks.  It will be landscaped; however, due to the number of unexpected utility locations that were encountered, they held off on landscaping it.  I have funding available for landscaping.  If you want to be involved in public input on the new landscape design, contact my office and we will include you on that list.  Through the end of construction, contact Patti Watson at [email protected], 245-3134, or 269-9691 if you have questions or concerns. 

Not sure how to navigate a roundabout or need a refresher?  See below for the steps: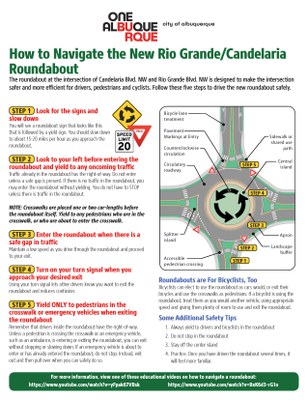 Upcoming Events
Barelas Fiesta: September 6 | 10 am - 3 pm
New Mexico Rising: NM Climate Disruption Film Festival | September 6-7
Rail Yards Market: Sundays 10 am - 2 pm
Downtown Growers Market: Saturdays 8 am - noon @ Robinson Park
ABQtodo: Events and activities in Albuquerque
ABQ365: Events and activities in Albuquerque
Community Announcements/Resources
Sincerely,
Isaac Benton
City Councilor, District 2