Plants in Bloom
Plants with images are grouped by location and listed alphabetically within their plant family. Region or country of origin are included after the plant name.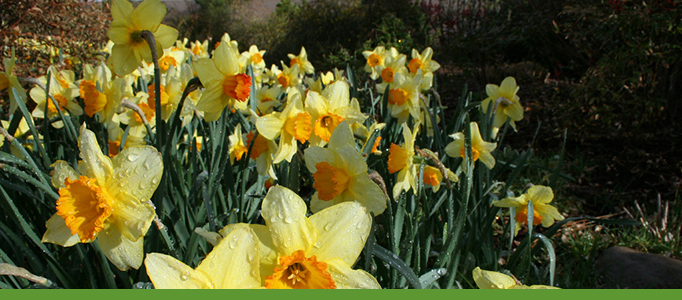 Spring Season
A list of Winter Blooms is now available (no images). Many of the winter blooming plants may be found in the Mediterranean Conservatory.
We are making an effort to include more photos of individual plants on this page. If you would like to contribute a digital photo of a garden plant to this webpage, please send it to the webmaster at [email protected].
Desert Conservatory
MONOCOTS
Agaves - Agavaceae
Manfreda (Manfreda sp.) -- Southern Texas and Northeastern Mexico
Banana yucca (Yucca baccata) - Southwestern United States
DICOTS
Cactus Family - Cactaceae
Ladyfinger Cactus (Echinocereus pentalophus) -- Southern Texas, Northeastern Mexico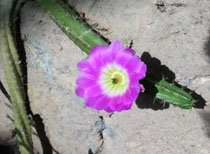 Spiny Claret Cup, Beehive Cactus (Echinocereus coccineus) - Southwestern US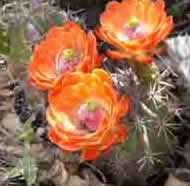 Sea Lavender - Plumbaginaceae
Plumbago (Plumbago scandens) -- Southern US to Central America
Pea family - Fabaceae
Baja fairyduster (Calliandra california) -- Baja Sonoran Desert
Littleleaf palo verde (Cercidium macrophyllum) -- Mojave and Sonoran Deserts
Spurge family - Euphorbiaceae
Shrubby euphorbia (Euphorbia xantii) -- Baja Sonoran Desert
Caltrops - Zygophyllaceae
Morkillia (Morkillia acuminata) -- Mexico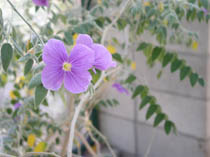 Creosote (Larrea tridentata) -- Southwest American deserts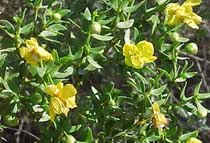 Catalpas - Bignoniaceae
Trumpet flower (Tecomeria spp.) -- South Africa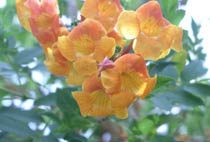 Sea Holly - Acanthaceae
Chuparosa (Justicia californica, J. candicans and J. sonorae) -- Sonoran Desert
Sunflower family - Asteraceae
Damianita (Chrysactinia mexicana) -- Chihuahuan Desert
Mediterranean Conservatory
MONOCOTS
Bloodwort family - Haemodoraceae
Kangaroo paws (Anigozanthos flavidas) -- Australia
Lilies - Liliaceae
Sweet garlic (Tulbaghia fragrans) -- South Africa
Society garlic (Tulbaghia violacea) -- South Africa
Irises - Iridaceae
'Orange Drop' fotnight lily (Dietes cultivar)
Peacock flower, fortnight lily (Dietes bicolor) -- South Africa
Large wild iris (Dietes grandiflora) -- South Africa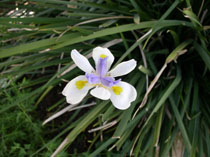 Sedges - Cyperaceae
Papyrus (Cyperus papyrus) -- North Africa
This is the paper of ancient Egypt, and it does have flowers, although they are very small.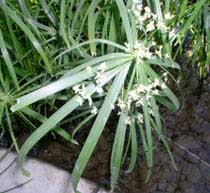 DICOTS
Mallows - Malvaceae
Cape mallow (Anisodontea x hypomandaum) -- South Africa
Rock Roses - Cistaceae
Grey-leaved Rockrose (Cistus albidus) Mediterranean
Rockrose (Cistus x hybridus) -- Mediterranean
Sunset rockrose (Cistus x pulverulentus "Sunset") -- Mediterranean
Rockrose (Cistus x verguinii) -- Mediterranean
Myrtles, Eucalyptus and Clover Family - Myrtaceae
Bottlebrush (Callistemon citrinus) -- Australia
Bottlebrush (Callistemon citrinus 'Little John") -- Australia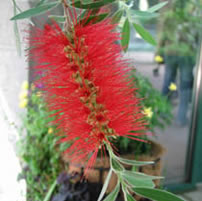 Periwinkles and Oleanders - Apocynaceae
Natal plum (Carissa grandiflora) South Africa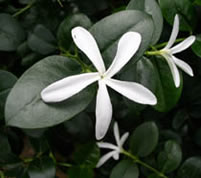 Oleander (Nerium oleander 'Sister Agnus') – Southwestern Europe, East Asia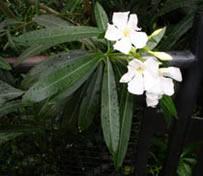 Borages - Boraginaceae
Pride of Madeira (Echium fastuosum) -- Madeira islands near Portugal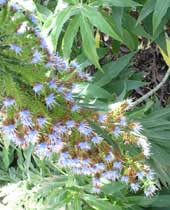 Olives, Ashes and Lilacs - Oleaceae
Jasmine (Jasminum odoratissimum) -- Madeira
Snapdragons - Scrophulariaceae
Island snapdragon (Galvezia speciosa) – Southern California
Monkeyflower (Mimulus cardinalis) – Southwestern US coast to Mexico
Monkeyflower (Mimulus longifolius) – California coast
Mints - Lamiaceae
Goodwin Creek Gray Lavender (Lavandula spp.) -- Mediterranean
Jerusalem Sage (Phlomis fruticosa) -- Mediterranean
Andean silver-leaf sage (Salvia discolor) -- Peru
Outdoor Grounds
MONOCOTS
Lilies - Liliaceae
Daffodil (Narcissus cultivars) - Europe, Asia, North Africa
Tulip (Tulipa cultivars) - North America, Eurasia, North Africa

Irises - Iridaceae
Iris (Iris cultivars) - North America, Europe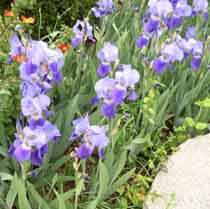 Grasses - Poaceae
Heavenly bamboo (Nandina domestica) - North America, Asia
DICOTS
Barberries - Berberidaceae
Red barberry (Mahonia haematocarpa) - Southwestern United States and northern Mexico
Creeping barberry (Mahonia repens) - Western United States and northern Mexico
Algerita (Mahonia trifoliolata) - Southwestern United States and northern Mexico
Buttercups - Ranunculaceae
Yellow columbine (Aqulegia chrysantha) - Western United States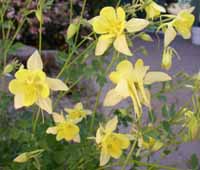 Akebias and Holboellias - Lardizbalaceae
Chocolate vine (Akebia quinata) - Eastern United States
Sea Lavendars and Thrift - Plumbaginaceae
Sea thrift (Armeria spp.) - Worldwide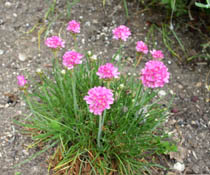 Violets - Violaceae
Violet (Viola cultivars) - Worldwide
Heath Family - Ericaceae
Texas madrone (Arbutus texana) - Southern New Mexico, West Texas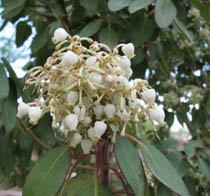 Rose Family - Rosaceae
Apache plume (Fallugia paradoxa) - Southwestern United States and northern Mexico
Crabapples and colonnade apples (Malus cultivars) - Eastern Turkey, nouthwestern Russia, North America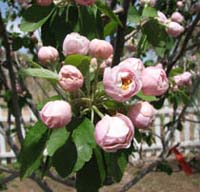 Kwanzan Cherry (Prunus serrulata) - Japan
Roses, assorted (Rosa sp.)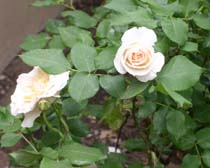 Currants - Grossulariaceae
Golden current (Ribes aureum) - United States
Currants, Hydrangeas and Saxifrages - Saxifragaceae
Coralbells (Heuchera sanguinea) - New Mexico and Arizona
Pea Family - Fabaceae
Western redbud (Cercis occidentalis) - Western United States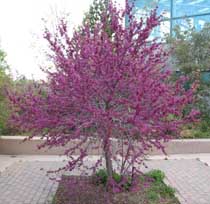 Spainsh Broom (Spartium junceum) - Mediterranean
Purple robe locust (Robinia "Purple Robe") - North America
Japanese wisteria (Wisteria floribunda) - Japan
Chinese wisteria (Wisteria sinensis) - China
Dogwoods - Cornaceae
Red-Twig dogwood (Cornus stolonifera) - North America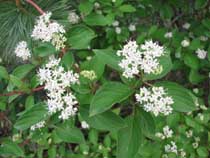 Sapindaceae
Texas buckeye (Ungnadia speciosa) - New Mexico and Texas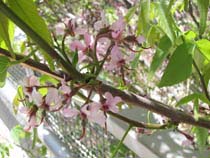 Cashews, Mangos, Sumacs and Poison Ivy - Anacardiaceae
Three-leaf sumac (Rhus trilobata) - Western United States and northern Mexico
Oleaceae - Olive, Ashes and Lilacs
Lilacs (Syringa spp.) - Southeast Europe and Eastern Asia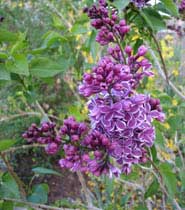 Phlox Family - Polemoniaceae
Creeping phlox (Phlox subulata) - Eastern United States
Verbeneaceae - Verbenas and Teaks
Rough Verbena (Verbena rigida) - South America
Mints – Lamiaceae
Ajuga (Ajuga reptans) - Europe
Rosemary (Rosmarinus officinalis) - Mediterranean
Cherry sage (Salvia greggii) - Southwestern United States and northern Mexico
Valerians - Valerianaceae
Red valerian (Centranthus ruber) - Europe and northern Africa to Asia
Elders and Honeysuckles - Caprifoliaceae
Glossey abelia (Abelia grandiflora) - China
Sunflower Family - Asteraceae
Yarrow (Achillea filipendulina) - Eurasia
Mat daisy (Anacyclus depressus) - Morocco
Chocolate flower (Berlandiera lyrata) - Southwestern United States and northern Mexico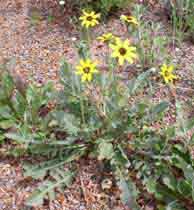 Angelina daisy (Hymenoxys acaulis) - Southwestern United States and northen Mexico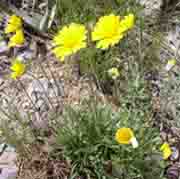 Snow-in-summer (Cerastium tomentosum) - Eurasia
Winter Blooms
Abutilon palmeri (Palmer's Indian Mallow)-- Feb-Mar
Acacia baileyana (Golden Mimosa)-- Nov-Jan
Acanthus mollis (Bear's Breeches)-- Nov-Dec and March
Adenium obesum (Desert Rose)-- March
Anacyclus depressus (Mat Daisy)-- March
Anigozanthos flavidas (Kangaroo Paws)-- March
Anisacanthus quadrifidus (Flame Anisacanthus)-- Nov-Dec and March
Anisodontea x hypomandrum (Cape Mallow)-- Dec-June
Arbutus marina (Strawberry Tree)-- Nov-May
Banksia integrifolia (Coast Banksia)-- Nov-Jan
Berberis haematocarpa (Red Barberry)-- Mar-May
Berberis repens (Creeping Barberry)-- Mar-May
Berberis trifoliolata (Three-leafed Barberry)-- Mar-Apr
Buddleya marrubifolia (in) (Woolly Butterflybush)-- Dec-June
Calliandra california (Baja Fairy Duster)-- Dec-May
Callistemon cintrinus (Red Bottlebrush)-- Dec-June
Callistemon cintrinus Little John (Little John Bottlebrush)-- Dec-June
Callistemon jeffersii (Dwarf Bottlebrush)-- Dec and Mar-Apr
Ceratostygma absinthincum (Plumbago)-- Mar
Cercidium floridum(Blue Palo Verde)-- Feb-Mar
Cercis canadensis(Western Redbud)-- Mar
Chaemomeles sp.(Quince)-- Mar-Apr
Chamaerops humilis (Mediterranean Fan Palm)-- Dec-Mar
Chrysactinia mexicana (Damianita)-- Dec-Jan and Mar-Apr
Cistus incanus creticus (Pink Rockrose)-- Jan-June
Cistus salviifolius (in) (Sageleaf Rockrose)-- Jan-June
Cistus salviifolius (in) prostrate (Sageleaf Rockrose)-- Jan-Apr
Cistus x pulverulentus (in) "Sunset" (Sunset Rockrose)-- Jan-June
Coleonema pluchrum (Pink Breath of Heaven)-- Jan-Mar
Correa pulchella (Australian Fuschia)-- Dec-Jan
Convolvulus mauritanius (Ground Morning Glory)-- Jan, Mar
Narcissus sp (Daffodil)-- Mar
Dalea bicolor (in) (Blue Dalea)-- Dec- Jan
Dietes "Orange Drop" (Fortnight Lily)-- Jan-Mar
Dietes grandiflora (Large Wild Iris)-- Jan-Mar
Echium fastuosm (Pride of Madeira)-- Mar
Encelia farinose (in) (Brittlebrush)-- Feb-Mar
Erigeron glaucus (in) (Seaside Daisy)-- Jan-Mar
Erigeron karvinskianus (Mexican Daisy)-- Jan-June
Erisimum "Bowles Mauve" (Lavender Wallflower)-- Mar
Euphorbia (Gopher Spurge)-- Feb-Mar
Euphorbia xantii (Shrubby Euphorbia)-- Dec-May
Ferraria crispa (Black Flag)-- Feb-Mar
Foresteria neomexicana (New Mexico Olive)-- Mar
Forsythia x intermedia (Forsythia)-- Mar
Galvezia speciosa (Island Snapdragon)-- Dec-July
Greville thelemanniana (Hummingbird Bush)-- Jan-May
Heuchera "Canyon Pink" (Coralbells)-- Feb-May
Hymenoxys acalus (Angelina Daisy)-- Feb and Mar-June
Jasminum nudiflorum (Jasmine)-- Jan-Mar
Jasminum odoratissimum (Jasmine)-- Dec-Jan
Justicia californica (Chuparosa)-- Dec-June
Justicia candicans (Chuparosa)-- Dec-Mar
Justicia sonorae (Chuparosa)-- Dec-May
Larrea tridentata (Creosote)-- Mar-May
Lavandula "Munstead" (Munstead Lavender)-- Dec-Jan and Mar-Apr
Lavandula multifida (Fernleaf Lavender)-- Sept-July
Lavandula stoechas (Spanish Lavender)-- Jan-June
Malephora crocea (Ice Plant)-- Feb
Melaleuca elliptica (Granite Honey Myrtle)-- Jan-April
Mimulus longifolius (in) Long-leafed Monkeyflower-- Dec-July
Mimulus cardinalis (Red Monkeyflower)-- Feb-July
Morkillia acuminate (Morkillia)--Jan,Mar-Apr, June
Nerium oleander "Petite Pink" (Oleander)--Feb, and May-July
Origanum syriaca (Oregano)-- Dec-Jan and June
Plectranthus hadiansis-- December
Phlomis fruticosa (in) (Jerusalem Sage)-- Jan-July
Phlox subulata (Creeping Phlox)-- Jan-May
Phygelius capensis (Cape Fuschia)-- Feb-Mar and May-July
Plumbago auriculata (Cape Leadwort)-- Dec-July
Plumbago scandens (Plumbago)-- Dec-June
Psoralea pinnata (Scurfy Blue Pea Shrub)-- Feb-May
Rosemarinus officinalis HC (Rosemary)-- Sept-Jan and Mar-April
Ruellia peninsularis (Desert Ruellia)-- Dec-Jan and April-May
Salvia discolor (Andean Silverleaf Sage)-- Dec-June
Salvia leucantha (Mexican Sage)-- January
Tagetes lemmonii (inside) (Mountain Marigold)-- Jan-May
Tecoma stans "Gold Star" (Yellow Bells; Yellow Elder)-- Dec and Feb-Mar
Tecomeria capensis (Trumpet Flower)-- Dec-June
Titanopsis calcarca (Jewel Plant)-- February
Tulbaghia fragrans (Sweet Garlic)-- Dec-Mar and May-June
Tulbaghia violacea (Society Garlic)-- Feb-July
Veltheimia bracteata (Forest Lily; Sand Onion)-- Dec-March
Mammillaria heyderii (Little Nipple Cactus)-- Feb-Mar