Preschool Programs
Enroll your child in one of our fun preschool programs today!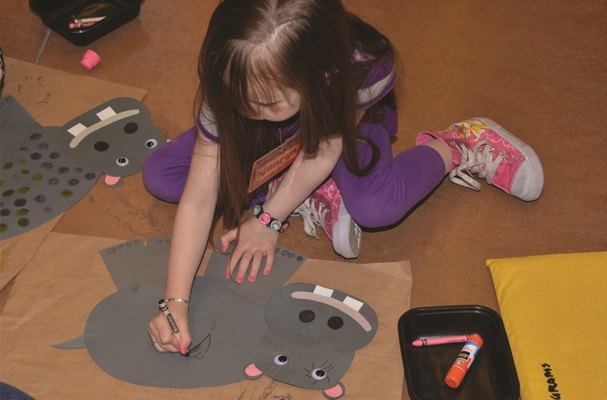 Camp BioPark for Preschoolers
Camp BioPark offers adventures for children from pre-school through grade 9. Learn more about camps for pre-schoolers and accompanying adults.
BioPark Beginnings
Year-round opportunities to explore nature at the BioPark with your child. 
Registration for spring 2020 is open now.
Registration for fall 2020 begins July 1 at 8:30 a.m.

Where
Weekly classes alternate between the Zoo, Aquarium, Tingley Beach and Botanic Garden.
When
12-week sessions:
Tuesdays (January 14-April 7) from 1-2:30 p.m.
Wednesdays (January 15-April 8) from 9:30-11 a.m.
Six-week sessions:
Tuesdays (January 14 - February 18) from 1-2:30 p.m. OR Wednesdays (January 15 - February 19) from 9:30-11 a.m.

Tuesdays (February 25 - April 7) from 1-2:30 p.m. OR Wednesdays (February 26 - April 8) from 9:30-11 a.m.
Ages
3-6 (children must be accompanied by adult)
Cost
$175 for entire 12-week session. $90 for one six-week session. Cost includes one child and one adult. Up to two additional children are $80 each; this also includes those children not participating in the class, regardless of age.
Member Discount: NM BioPark Society Members receive a 10-percent discount. Must provide membership information at time of registration.
Registration
Group size is limited. Pre-registration is required, and participation is reserved only upon receipt of payment. 
Description
Explore the Zoo, Aquarium, Botanic Garden and Tingley Beach with your pre-school child. Each weekly class includes songs, games, crafts, and visits to the BioPark's exhibits. Join us during the this semester for an exploration of the wonders of the Americas.
Activities are designed for ages 3-6 and are facilitated with active parent participation. Classes alternate weekly between the Zoo, Aquarium, Botanic Garden or Tingley Beach. Registration is now open. If you have questions, call BioPark Education at 505-848-7180.
About Ms. Ann
Pre-school Teacher Ann Gallegos brings more than 30 years of experience in elementary and early childhood education to the program. Her curriculum is specially designed to teach about each continent, plant and animal. Ms. Ann is a dynamic and enthusiastic teacher who sparks imaginations and excites the senses of young students.
Parent Feedback
Parents from previous BioPark Beginnings classes have some great things to say about their experiences! Here are some of their comments:
"We loved the structure of the class, the songs, the animal facts, the crafts, and especially Ms. Ann!"
"I loved the interaction with the kids while learning. The hands on really helped."
"It's educational for adults, too."
"Science info about the kinds of animals and what distinguishes one animal from another. Loved the projects and stories. My child liked the Tingley Beach day the best!"
"Good structure, organized. The teacher was enthusiastic and patient!"
"Great learning experience!"
"Loved seeing the animals we learned about."
"Art projects!"
"Lots of real world examples and experience. (We liked) The crafts. The socializing with peers."
Refund Policy
Refunds are given if requested at least two weeks prior to the start of the first day of class, minus a $25 processing fee. No refunds will be given if requested within the two weeks prior to the first day of class or once classes begin.