Ehren Natay, Yellow Cake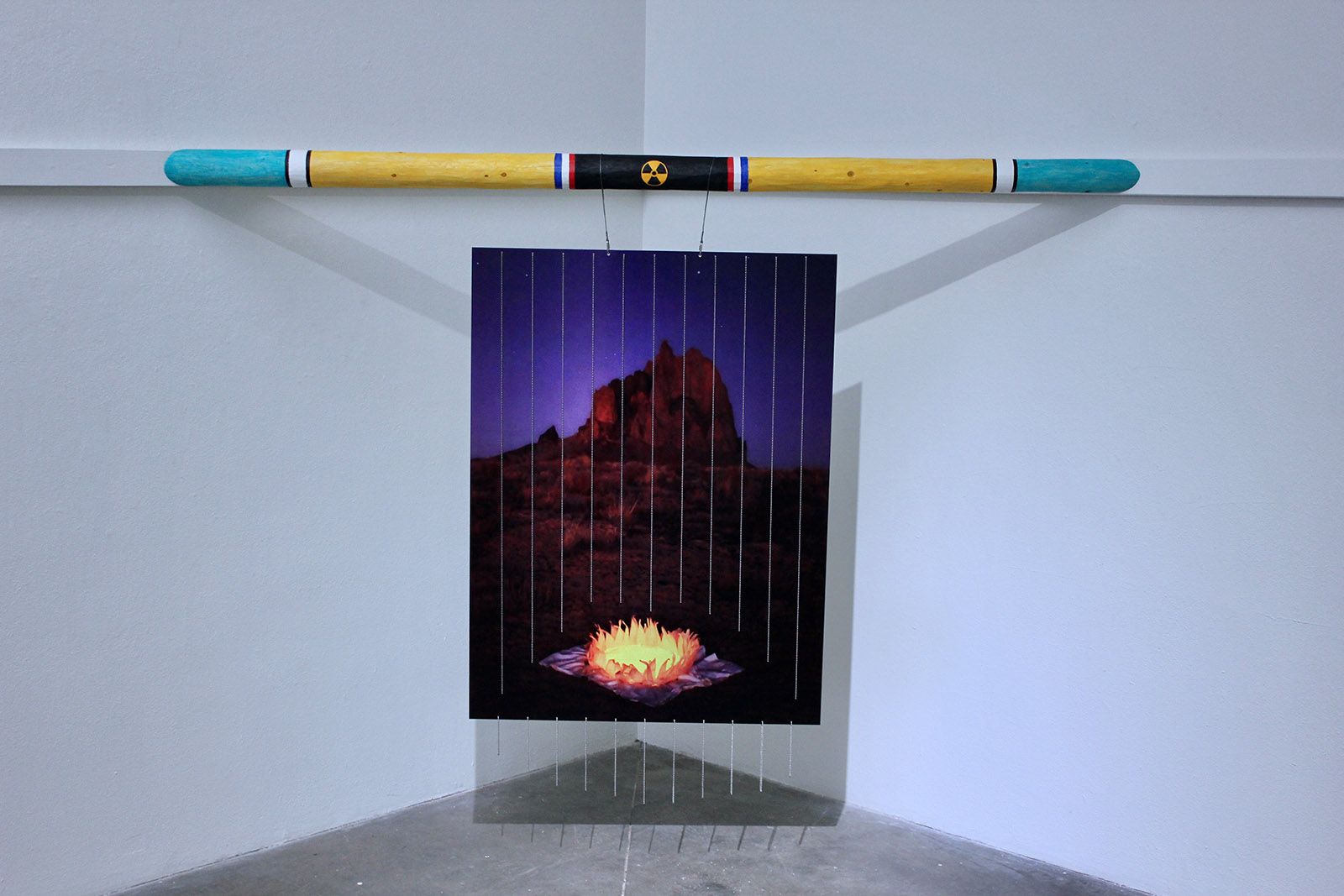 Ehren Natay
born 1985 Santa Fe, New Mexico; lives Santa Fe, New Mexico
Yellow Cake
2019
dye-sublimation print on aluminum, steel ball chain, metal dog tags
48 x 36 in. (photograph), 79 ½ x 3 ½ x 3 ½ in. (beam)
lent by the artist, © 2020 Ehren Natay
photo courtesy of the artist
Alkaan is the ceremonial, wood-fired corn cake typically made during a Kinaaldá—the morphing ceremony when a young Diné girl crosses over to womanhood.
Yellow Cake is also the colloquial term for the solid form of mixed uranium oxide, which is produced in the uranium recovery process. In its natural state, uranium ore is perceived in Diné tradition to be a spiritual energy source that can be used as a medicinal catalyst for change in one's ideas, thoughts, and perceptions. Diné tradition upholds the belief that this energy source should never be uncovered because it would irrevocably change the environment and cause devastation to its people. 
In 1942, the Manhattan Project began mining uranium on the Navajo Reservation at the site of Monument Valley. 3.9 million tons of uranium ore was extracted from Navajo lands up until 1986 when the last uranium mine closed. Today, there are over 500 mining sites that remain abandoned with piles of contaminated soil and uranium ore sitting above ground and unattended.
Ehren Natay's Yellow Cake illustrates the effects that uranium mining has had on Diné communities including radioactive toxicity which can be held in women's bodies and passed down through generations.