Bruce Nauman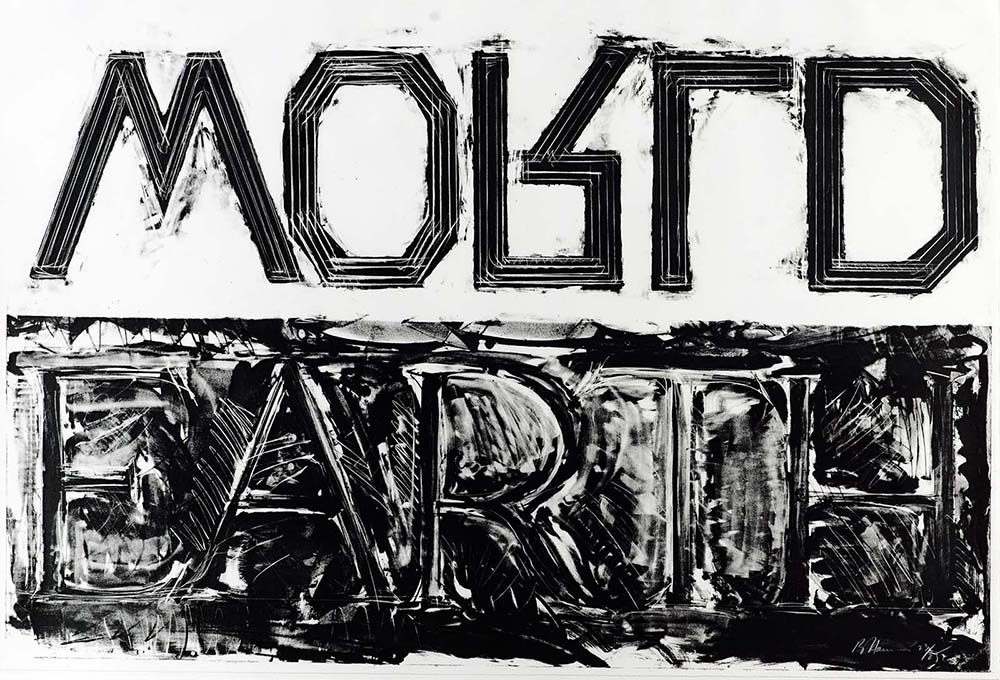 Bruce Nauman
born 1941, Fort Wayne, Indiana; lives Northern New Mexico
Earth−World
1985
lithograph
30 ¼ x 45 in.
Albuquerque Museum, gift of Jonathan Abrams and Fay Pfaelzer Abrams, 2014.1.43
© 2020 Bruce Nauman / Artists Rights Society (ARS), New York
photo by David Nufer
Nauman once again emphasizes how words juxtaposed influence our interpretation of them. Without the word "earth" in the lower half of this print, the reading of the top word is much more ambiguous and requires far more effort to correctly understand it to say "world". The print considers the subtle differences between these two words that share similar meaning and suggests that the earth will remain stable even when the world is flipped upside down.
Bruce Nauman
born 1941, Fort Wayne, Indiana; lives Northern New Mexico
Eat Death
1976
lithograph
41 ¼ x 30 ⅛ in.
New Mexico Museum of Art, Gift of the Rick Dillingham Estate, 1994.67.64
© 2020 Bruce Nauman / Artists Rights Society (ARS), New York
photo by Blair Clark
Much of Bruce Nauman's work centers around language. Through subtle formal elements, he highlights sometimes juxtaposing ideas within words that are closely related in some way. In this case, he brings attention to the fact that the word "Death" also contains the word "eat," leaving the viewer to contemplate these ideas separately and as they relate to each other.