Anthony Louderbough, Demonstrators at Central Avenue and Oak Street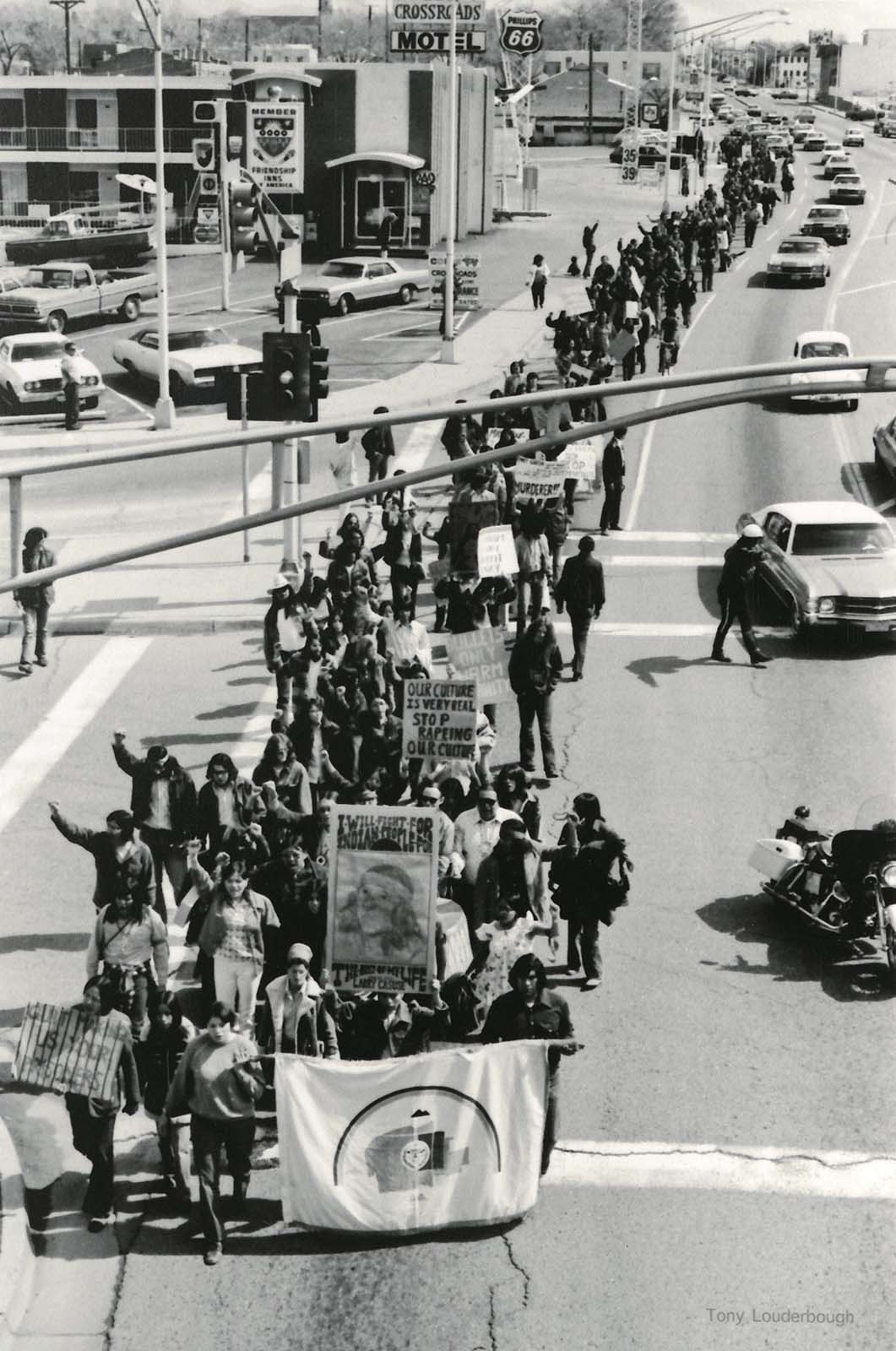 Anthony Louderbough
born 1947; lives Albuquerque, New Mexico
Demonstrators at Central Avenue and Oak Street
March 31, 1973
gelatin silver print
10 x 8 in.
Anthony Louderbough Pictorial Collection (PICT 000-954), Center for Southwest Research, University Libraries, University of New Mexico
Following the shooting death of Larry Casuse on March 1, 1973, the University of New Mexico KIVA Club—the university's Native student organization—led a march through downtown Albuquerque, New Mexico, along Central Avenue. Casuse was KIVA Club President at the time of his death and active in the protest against the Gallup Inter-tribal Indian Ceremonial. His legacy remains one of the struggle against Indigenous exploitation.
In this image, demonstrators cross through the intersection of Central Avenue and Oak Street NE, heading toward downtown Albuquerque.
Zane Blaney and Carrol Cagle
KYMR—The Public Affair: Navajo Country, Part One
January 6, 1975
7-inch audio reel, 4:15 minutes
Albuquerque Museum, gift of Zane Blaney, PA2019.068.006
After three Anglo teenagers murdered three Navajo men in Farmington, New Mexico, investigative journalist Carrol Cagle presented this five-part radio series called "Navajo Country." In this segment, he talks about the response to the murders and the formation of the Coalition for Navajo Liberation, led by Farmington resident John Redhouse (Diné).