Additional Resources

Albuquerque Museum brought together several generations of Red Power activists from its founders to its present day participants, who commented on its legacy in New Mexico. Panel moderated by Dr. Nick Estes, guest curator for the exhibition. Joining Dr. Nick Estes on the panel is Jennifer Denetdale, Simon Ortiz, and Jennifer Marley. The recorded panel discussion premiered on February 5, 2021.
If you would like to learn more about the Red Power Movement in New Mexico and beyond, check out the additional resources below.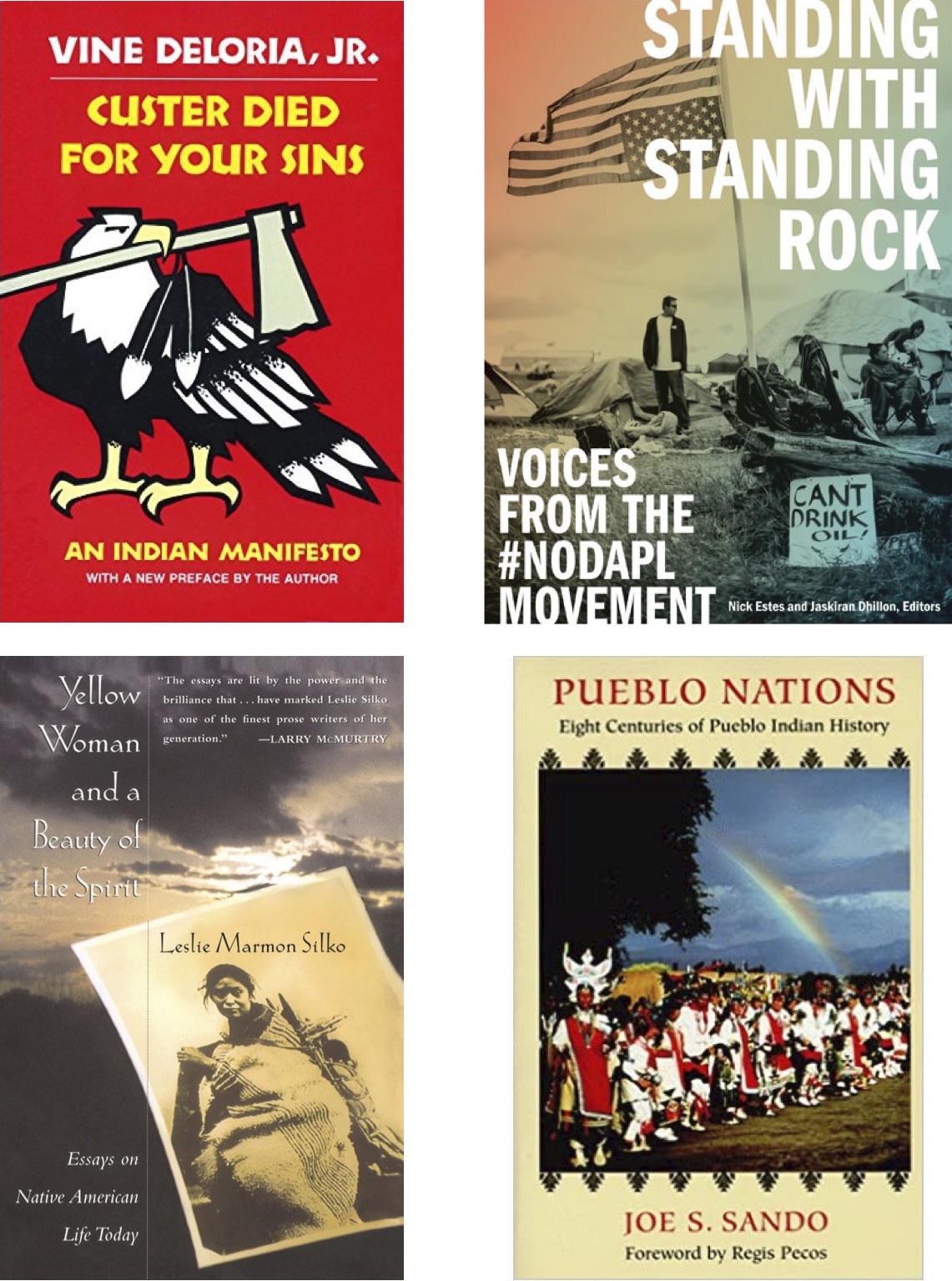 Nonfiction
Deloria, Vine, Jr. Custer Died for Your Sins: An Indian Manifesto. 1969. Norman: University of Oklahoma Press, 1988.
Dunbar-Ortiz, Roxanne. Roots of Resistance: A History of Land Tenure in New Mexico. Norman: University of Oklahoma Press, 2007.
Estes, Nick, and Jaskiran Dhillon, eds. Standing with Standing Rock: Voices from the #NoDAPL Movement. Minneapolis: University of Minnesota Press, 2019.
Josephy, Alvin M., Jr, Joane Nagel, and Troy R. Johnson, eds. Red Power, Second Edition: The American Indians' Fight for Freedom. Lincoln: Bison Books (University of Nebraska Press), 1999.
Lee, Lloyd L., Mary Alice Tsosie, and Kelly Francisco. Native Americans and the University of New Mexico. Albuquerque: University of New Mexico Press, 2017.
McKenzie-Jones, Paul R. Clyde Warrior: Tradition, Community, and Red Power. Norman: University of Oklahoma Press, 2015.
Sando, Joe S. Pueblo Nations: Eight Centuries of Pueblo Indian History. Santa Fe: Clear Light Publishing, 1992.
Shreve, Bradley G. Red Power Rising: The National Indian Youth Council and the Origins of Native Activism. Norman: University of Oklahoma Press, 2011.
Silko, Leslie Marmon. Yellow Woman and a Beauty of the Spirit: Essays on Native American Life Today. New York City: Simon & Schuster, 1996. 
Smith, Paul Chaat, and Robert Allen Warrior. Like a Hurricane: The Indian Movement from Alcatraz to Wounded Knee. New York City: The New Press, 1996.
Vicenti Carpio, Myla. Indigenous Albuquerque. Lubbock: Texas Tech University Press, 2011. 
Films
King, Christina D., and Elizabeth A. Castle. Warrior Women. Castle King LLC, 2018. – https://www.warriorwomenfilm.com/synopsis
Little, John, and Kenn Little. More than a Word. Black Tongue Dakota Media, 2017. – http://morethanawordfilm.com/about-the-film/
Reyna, Diane. Surviving Columbus. KNME-TV and the Institute of American Indian Arts, 1992. – https://www.pbssocal.org/programs/surviving-columbus/
Tucker, Lorna. Amá. London: Raindog Films, 2018. – https://amamovie.com/about