Our Role
Information on ACS's role in the public safety system.
Where does ACS fit in the public safety system?
ACS is a cabinet-level public safety department, meaning we operate independently from and in collaboration with APD and AFR. What makes ACS different is our use of a public health model with a non-law enforcement-led response. ACS allows 911 dispatch to send trained professionals with backgrounds in behavioral and mental health and social services to non-violent and non-medical calls. The goal is to deliver the right response at the right time and to improve access to the broad range of social services from government and community-based organizations.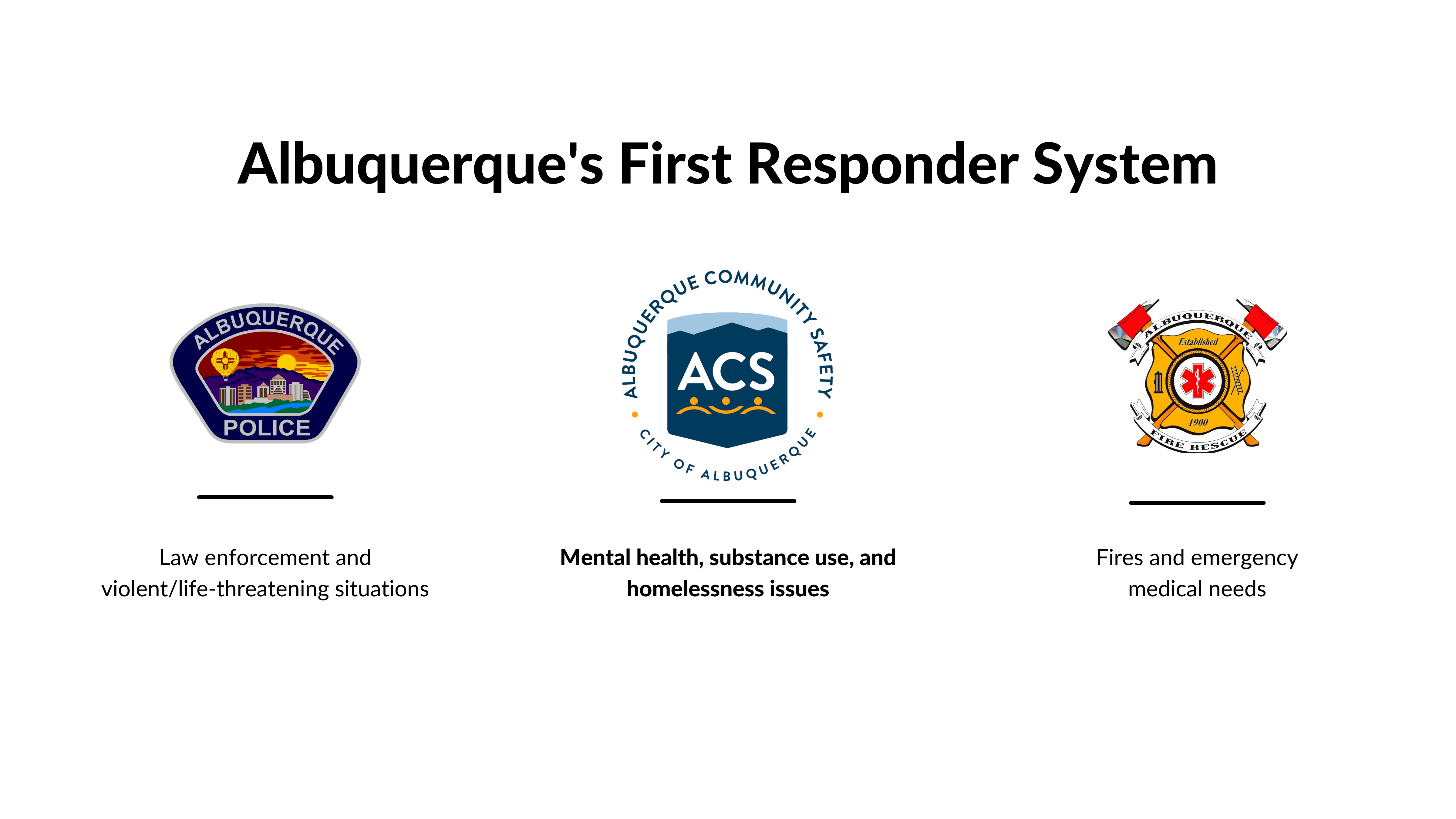 ACS responders use motivational interviewing, crisis intervention, de-escalation, cultural healing, and other proven strategies to address needs. ACS also addresses calls that do not require a behavioral health background, such as needle pickup and abandoned vehicles. ACS responders do not make arrests or issue citations, and instead connect individuals and families to services and resources in the community.
Our Goals
ACS has a clear and critical focus as the newest branch of the City's 911 response. We have four strategic goals we aim to achieve in order to make an impact in Albuquerque. For more detailed information on our strategic plan, download our Organizational Plan.
Respond: Increase public safety by providing a holistic and trauma-informed response to calls for service.
Build: Establish a sustainable and long-term presence that is woven into the community and the public safety ecosystem.
Engage: Activate community partnerships and strengthen community engagement by enhancing relationships, trust, information sharing, and capacity building between the community and ACS.
Influence: Leverage ACS's position and knowledge to influence and inform the ongoing evolution of the larger (e.g., county, state, national) system of care.