Mayor Tim Keller's 2023 State of the City Address
Join Mayor Tim Keller and the City of Albuquerque for the 2023 State of the City Address and Community Celebration!
When and Where Transportation Live Music and Fun For All Ages Food Community Partners Contact
About the State of the City Address & Community Celebration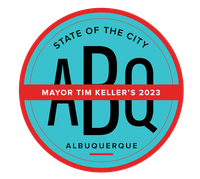 Join us for the 2023 State of the City and community expo at the historic Albuquerque Rail Yards for an event that gives families a fun opportunity to come together and learn about the City's priorities, initiatives and resources. 
Meet representatives from City departments, local businesses, and nonprofit organizations and hear about their contributions to the betterment of our community. Along with informative presentations and interactive activities for all ages, have some fun in the sun with food trucks, live music and much more! 
This is a free, all ages event.
Prohibited items include large bags, weapons, outside food and beverage, and signs.
When & Where
Saturday, May 20, 2023 | 10 a.m. to 2 p.m
Albuquerque Rail Yards | 722 3rd SW 87102
Download the State of the City Rail Yards Map
Full Schedule
Community Expo and Celebration | 10 a.m. - 1 p.m.
Mayor's State of the City address | 1 p.m.
Transportation
Free park and ride from Gold and 2nd Street parking garage. Pickup is on the southeast corner of the garage
Bike in and use the free bike valet service.
There will be limited onsite parking.
Live Music and Fun For All Ages
Live Music by Revíva 
Map of Enchantment Coloring Wall

Volume 1 of the Map of Enchantment showcases three of Albuquerque's historic neighborhoods, Downtown, Nob Hill, and the University Area. Participants of all ages can enjoy a moment coloring in their favorite city features on a giant coloring board.

GaGa Ball

A safer alternative to Dodgeball, fast-paced fun for everyone.

Parks and Rec Climbing Wall

Push yourself to the limit as you attempt to conquer the incredible 25-foot rock. The climbing wall has easy, moderate, and hard routes that will challenge kids of all ages.

Inflatable Fire House

Fun inflatable house teaches children and adults proper fire safety drills and educates them on proper fire safety by training them on the use of smoke detectors, fire extinguishers, kitchen safety, fireplace safety and so much more. 

Love Letters to Albuquerque

Writing stations allows participants to express what they love about Albuquerque.  Participants can mail their love letter via a nearby mailbox to be used in a future art installation from the Arts and Culture Department.

Phone Booth/ Memory Box

Leave a voicemail about favorite memories of Albuquerque. Reminisce about growing up here, family traditions, favorite landmarks and events that make our culture unique and one of a kind.

Community-Generated Poem

Participants can share stories that are transcribed in real time and then sewn together throughout the duration of the event. The sewn-together banners will then be hung along the fences of the Rail Yards resulting in a community-generated found poem.
More Family Friendly Fun:
Hands on interactive activities from Explora
Read to Me will provide free children's books
Meet KUNM's Kids group and hosts of Children's Hour
Wheels Museum will showcase a full model train display
Plenty of Photo Ops including the One Albuquerque Film Office's red carpet and Visit Albuquerque's life size photo frame
Visit with Animals Welfare's favorite furry friends all available for adoption
Learn about Recycling with Keep Albuquerque Beautiful fun and interactive game
Craft enrichment items for Shelter Animals to keep them cozy while they wait for their fur-ever home
Write a letter to a homebound senior and help brighten their day
And much more!  
Food Trucks
Craft Q BBQ 
KONA Ice
Peace Pizza 
Tikka Spice 
Wow Wow Lemonade 
2023 Community Partners
Together, we are building a stronger, more resilient community and our partners are at the heart of that effort.  We are proud to work alongside them as we strive to create a better future for all.  Visit these partners at the State of the City community expo to learn more about the important work they do. 
Albuquerque Ambulance Service (AAS), the largest and busiest provider of emergency 9-1-1 and non-emergency medical services in New Mexico is a nonprofit ambulance service and is a division of Presbyterian Healthcare Services.  Learn more about AAS.
Albuquerque Westside Business Association was founded in 2020 to serve as a voice for the westside business community advocating for economic and educational development of Albuquerque's west side, while preserving the cultural history of the city.  Learn more about Albuquerque Westside Business Association.
ALMA is a nonprofit art organization that supports and nurtures artists of all ages in creating artworks of exceptional quality while building entrepreneurial skills and developing leaders through a diverse and inclusive program.  Learn more about ALMA.  
Bernalillo County Clerk's Office provides efficient, courteous and professional customer service by ensuring all records are accurate and easily accessible to the public. The office acts to maintain the integrity of our electoral process by ensuring complete voter access, increasing voter registration and turnout, and adhering to all federal, state, and local laws. Learn more about the Bernalillo County Clerk's Office. 
Central New Mexico Community College (CNM) is the largest community college in New Mexico, providing a premier and affordable education. Learn about CNM. 
Children's Hour Inc. produces and distributes high-quality children's media, cultivated through community involvement and immersion. The award-winning kids' public radio program and podcast can be heard on more than 140 public radio stations worldwide. Learn more about The Children's Hour. 
Enlace Comunitario transforms the lives of individuals and their families experiencing domestic violence by working to decrease gender inequity and intimate partner violence in the Latinx immigrant community in Central New Mexico.  Learn more about Enlace Comunitario. 
Explora is the home to over 250 interactive exhibits and activities in science, technology, engineering, art, and math for the whole family. Learn more about Explora. 
GLSEN New Mexico is a grassroots initiative, working locally in the community to ensure safe schools for all students, regardless of sexual orientation and gender identity supporting LGBTQ-affirming public policy, teacher trainings, and events for students, educators, parents, and allies. Learn more about GLSEN New Mexico. 
Greater Albuquerque Habitat for Humanity builds and sells homes in partnership with low-income families working to become homeowners. In addition, Habitat works with existing low-income homeowners in Albuquerque neighborhoods to do home repairs so that they can continue to live in safe and affordable homes. Learn more about Greater Albuquerque Habitat for Humanity.  
God's Warehouse strives to alleviate hunger in our community by providing food assistance to individuals and families experiencing food insecurity. Learn more about God's Warehouse.
Ideal Option is a national leader in office-based medication-assisted treatment for addiction to opioids, alcohol, and other substances. Learn more about Ideal Option.  
Moms Clean Air Force works actively in New Mexico to address climate change issues that disproportionately harm communities of color. They are committed to bringing moms (and dads) together to develop events, policies, and actions to end environmental injustices in New Mexico. Learn more about Moms Clean Air Force. 
New Mexico American Marketing Association(NMAMA) helps the New Mexico marketing community understand a variety of marketing-related topics, trends, and innovations through educational programs, resources, and value-added networking during the year. Learn more about NMAMA.  
New Mexico Out Business Alliance is a statewide, equal-opportunity Chamber of Commerce comprised of LGBTQ+ and allied/supportive businesses and professionals and are the heart of LGBTQ+ business community.  Learn more about New Mexico Out Business Alliance. 
New Mexico State Police (NMSP) serve all jurisdictions in the state providing comprehensive law enforcement services for a safer New Mexico.  Learn more about NMSP. 
Prosperity Works provides limited-income New Mexico households with social and financial assets to ensure sustainable, equitable solutions for building strong, thriving communities. Learn more about Prosperity Works.
Read to Me! ABQ Literacy Network is a region-wide, independent collaboration to encourage early childhood literacy. Read to Me! has been a ready source of new or gently-used children's books for nearly 22 years.  Learn more about Read to Me!  ABQ Literacy Network.
SeedCrest, Inc. is a workforce licensing and education software for governments who are working to create a more educated, compliant, and knowledgeable workforce with sustaining economic outcomes. Learn more about SeedCrest.
Senator Ben Ray Luján has championed efforts to create good-paying jobs in New Mexico, expand quality health care and protect patients with pre-existing conditions, preserve our natural resources and sacred sites, build a clean energy economy, and uplift the middle-class. Learn more about Senator Ben Ray Luján.
Veterans Integration Center (VIC®), A 501(c)3 non-profit organization founded in 2005, is a resource for Veterans and their families in New Mexico. The VIC provides a multitude of services including multiple housing assistance options, peer support, food and nutrition, and case management services to Veterans, their families and the community. Learn more about Veterans Integration Center (VIC®).
Visit Albuquerque is responsible for promoting Albuquerque as a competitive and world-class leisure, meeting, convention and sports destination, and enhancing its public image as a dynamic place to live and work. Learn more about Visit Albuquerque.
Wheels Museum, Inc. is a 501(c)3 organization in the Albuquerque Rail Yards dedicated to collecting, preserving, and creating educational exhibits about the history of transportation in Albuquerque and New Mexico with emphasis on the impact on the development of the area. Learn more about Wheels Museum, Inc.
Contact
For more information on Mayor Tim Keller's 2023 State of the City Address, please contact [email protected] via email or call 505-768-3000. 
Read updates from past State of the City Addresses: