One Albuquerque: Kids' Cabinet
The City of Albuquerque and partners support our community's children with the One Albuquerque: Kids' Cabinet.
We have a pivotal role in serving youth in Albuquerque. Expanding access to effective youth programs to keep our next generation engaged, learning, and out of harm's way is a top priority.
—Mayor Tim Keller
Who We Are
The Kids' Cabinet, created in 2018 by Mayor Keller, is an appointed body composed of content experts, community partners, and agencies who work with City leadership to improve access and increase youth opportunities and outcomes across Albuquerque. Membership includes representatives from the public and private sector as well as the City of Albuquerque Police Department; Albuquerque Community Safety; Equity and Inclusion; Family and Community Services; Cultural Services; Parks and Recreation; Senior Affairs; and Transit.
Kids' Cabinet Work Groups
The Kids' Cabinet established the following work groups, each led by both a community member and a City staff member:
Public Safety
Early Learning
Out-of-School Time
Strategic Priorities & Projects
The One Albuquerque Kids' Cabinet is charged with:
Identifying service gaps and potential assets
Conducting gap analyses
Cultivating youth voice
Selecting and implementing strategies and leveraging resources
Developing Policy
Recent Kids' Cabinet Projects Include
SPIRIT program at Washington Middle School to prevent violence and implement restorative justice practices, in collaboration with the Department of Justice and other partners.
Success Planning at Highlands High School to connect students with one-on-one mentoring, in collaboration with Harvard Ed Redesign Lab, the Boys & Girls Club of NM and other partners.
Ongoing partnership with ABC Community Schools to connect struggling students and families with the resources they need.
Past Projects:
The Mapping the Gap: Out-of-School Time Programming in the City of Albuquerque report identifies where Out-of-School-Time programming is offered across the City of Albuquerque, and it uses a demographic analysis to identify the areas where these programs may be needed most. Understanding these patterns, both where programming is offered and where it is needed most, can help the City and its partner organizations build or expand existing programs.
Out-of-School Time programs can play a fundamental role in youth development. Whether it is a cooking class, soccer practice, or after-school tutoring, these activities allow youth to have high-quality interactions with their peers and adults, which can help the development of self-management strategies. Academic oriented programs can also support positive academic outcomes. However, research suggests that low-income families and families of color often struggle to engage in OST programming due to the cost of these programs or other logistical barriers, like programs being too far away or rigid work schedules that prevent parents from taking their children to these programs. Because of this, it is critical for the City of Albuquerque to understand who is not currently being served and where strategic partnerships may be in order to fill the gap.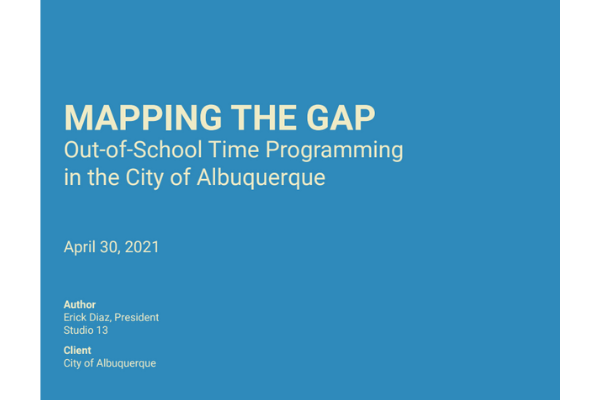 ---
Identifying service gaps is a key priority of the Kids' Cabinet. As a first step, the City has completed an inventory that includes all opportunities for children and families (1) administered by City departments (2) through City contracts with community organizations and (3) at City facilities. The next step is to capture additional opportunities for children and families.
Community organizations are encouraged to submit an opportunity at our Children and Youth Programs and Services Inventory.