PDFs
1. Type the text you want to turn into a link.
2. Highlight that text and click on the link icon.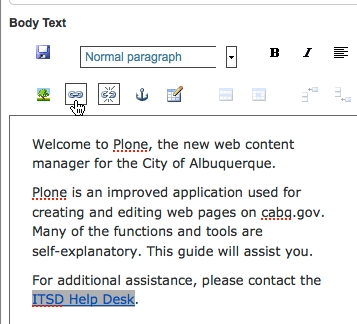 3. The Link window appears. Browse to your Documents folder.
Attention
It is VERY important that you click on the documents folder. If you put your PDF anywhere else, your users will not be able to access the document.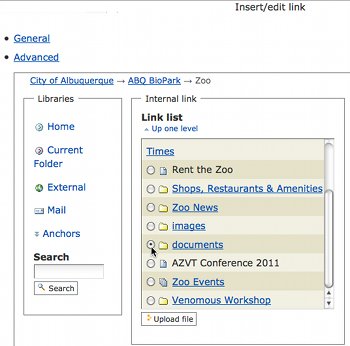 4. Browse to the document stored on your computer. Give it a title and description and then click the Upload button. When the file has uploaded, click the Insert button in the bottom left-side of the box.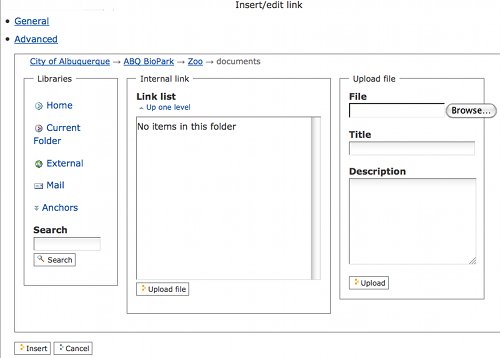 5. You are returned to your page. Scroll down and click Save. Your text is now a link to your PDF!
A note about PDFs
Portable Document Files (PDFs, made famous by Adobe Acrobat) revolutionized the web when they were originally introduced. Since that time, however, they've become sadly overused.
Problems with PDFs
PDFs are good for documents that will be printed. Do not use them to replace simple HTML to describe information on a computer screen. Learn more >>
PDFs are difficult to read on screen – they don't adapt to your user's window size or font.
PDFs usually take longer to load than HTML, making them frustrating for users with low bandwidth.
Adobe Reader, which most people use to view PDFs, has a history of slow speed and browser crashing.
Good uses of PDFs
Documents designed solely to be printed
Interactive forms such as order forms
Documents with footnotes, endnotes, or sidenotes
Scanned documents (but be careful here, because scanned documents are not accessible to those with sight disabilities).
Legally restricted formats, such as tax forms
To be kind to your users and make your page accessible to everyone, duplicate your PDF's content in a normal HTML page so that people can access the information in a way that does not require them to download a file.