Uranium Fever
The need for uranium ore to create atomic bombs resulted in the quick spread of uranium fever throughout the American West. After World War II the government promoted prospecting with how-to publications. Simultaneously, small companies developed sophisticated devices for discovering radioactive minerals.
Deposits of uranium ore were often found near Indigenous communities in the Southwest. The large mines that developed did not always provide safety equipment to their workers and tailings piles exposed local residents to windblown radioactivity. Cancers and other maladies followed uranium fever through the West, and continue to impact local communities.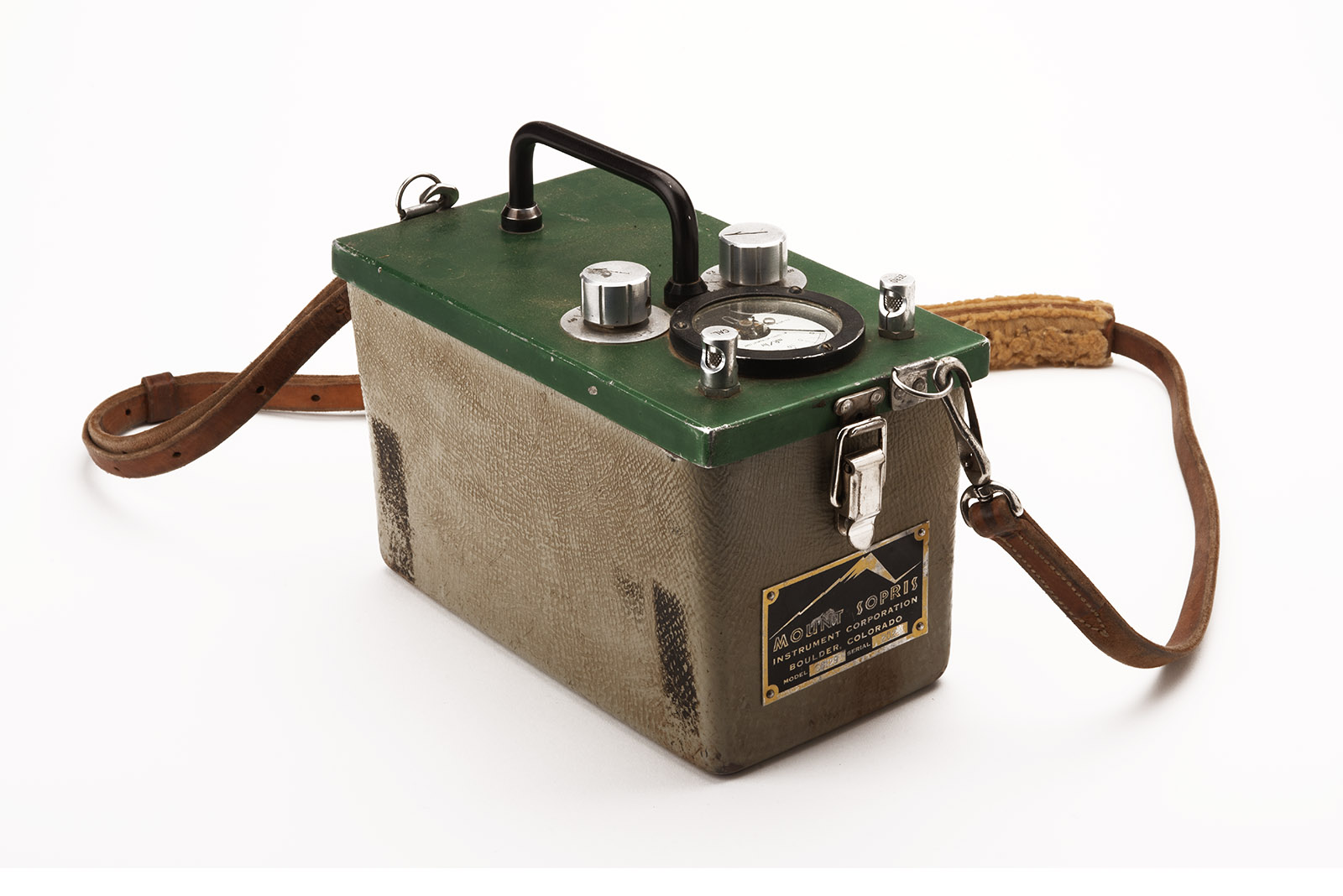 Mount Sopris Instrument Corporation, Boulder, Colorado
Scintillator (Geiger counter), model SC 129, serial number 202
1955
mixed electronic components in metal casing, leather strap 
10 x 14 x 8 in.
lent by a private collector
photo by David Nufer
Uranium mining in the United States has been concentrated in the western states and in particular the Southwest. New Mexico contains the second-largest identified uranium ore reserves of any other state and has produced thousands of tons of uranium ore. Geologist John Jebsen used this scintillator when he prospected for uranium in New Mexico and Colorado during the 1950s and 1960s.
Precision Instruments Inc.
Scintillator (Geiger counter), model 111B
1954
metal, electronic components, battery, sodium iodide crystal
8 x 13 ½ x 3 ¼ in.
Albuquerque Museum, gift of Joseph Traugott, PC2016.48.1.A
photo by David Nufer
Scintillators can detect minute levels of radioactivity. Allegedly some models could detect uranium deep underground while a prospector was flying in a lightweight Piper Cub airplane, and holding a scintillator out the window. In one advertisement for Precision Radiation Instruments from 1955, potential customers are informed that owners of small planes can earn up to $30 an hour plus a percentage of claims while surveying with a scintillator. Using this scintillator, which looks like a chrome-plated ray gun from a 1940s science fiction thriller, prospectors set out with hopes of striking it rich. 

United States Atomic Energy Commission
and United States Geological Survey
Prospecting for Uranium
1951
letterpress on paper
5 ⅝ x 4 ½ x ¼ in.
lent by private collector
Ellen MacGregor (author)
1906 Baltimore, Maryland - 1954
Paul Galdone (Illustrator)
1907 Budapest, Hungary – 1986 Nyack, New York
Pocket Books (publisher)
Miss Pickerell and the Geiger Counter Book Cover
1953
letterpress on paper
8 ¼ x 5 ⅝ x ¾ in.
lent by private collector
Children's book hero Miss Pickerell joined the nuclear club in 1953. Novelist Ellen MacGregor had her hero use a Geiger counter to discover uranium in the mythic Square Toe River, and then claim a $10,000 prize from the government.