Atrisco Heritage Academy High School to Get ABQ RIDE Service
Route #198 Will Serve School with Three Runs on Weekdays
12/16/13
On Jan. 13, 2014, ABQ RIDE service is coming to Atrisco Heritage Academy High School in Southwest Albuquerque.  ABQ RIDE Director Bruce Rizzieri and a host of community leaders made that announcement at a news conference at the school on Dec. 16.
ABQ RIDE is modifying the route of the #198-98th St/Dennis Chavez bus so that it will make one trip to the school during the morning hours, and two trips to the school in the afternoon.  ABQ RIDE began in July to research the potential for modifying the route. That was after a meeting between members of the community and Albuquerque's Transit Department.
"Members of the community told us of the need for a bus route to the school, especially for after-hours extracurricular activities and the health clinic on campus and we listened," said Mayor Richard J. Berry.  "After our Transit Department conducted research, we determined that Route #198 could be modified to fit those needs and we acted."
After July's meeting, ABQ RIDE developed both an English and Spanish survey and placed it on Survey Monkey.  The South West Alliance of Neighborhoods also distributed printed copies of the survey, as did Atrisco Heritage Academy staff.  What developed was a picture of the area's ridership potential, followed by a plan for modifying the #198 to provide service.
So starting Jan. 13, one bus is scheduled to arrive at 6:50 a.m., in time to get students and staff to school by the 7:21 a.m. start time.  The morning time was chosen based on survey results indicating most people wanted to arrive in the morning by 7 a.m.  Two afternoon stops are scheduled; one arriving at 3 p.m. and another at 4:59 p.m.  These afternoon times were chosen, based on survey results indicating particular interest in leaving school around 3 and 5 pm.
The new stop will be located on eastbound Dennis Chavez Blvd, just east of the intersection of Dennis Chavez and 118th St SW.
"This is a textbook example of how the community, the City of Albuquerque, Albuquerque Public Schools and the state can cooperate to get something done," said Bruce Rizzieri, Director of ABQ RIDE.  "The accomplishment is that now, one of Albuquerque's larger student populations is served by public transit."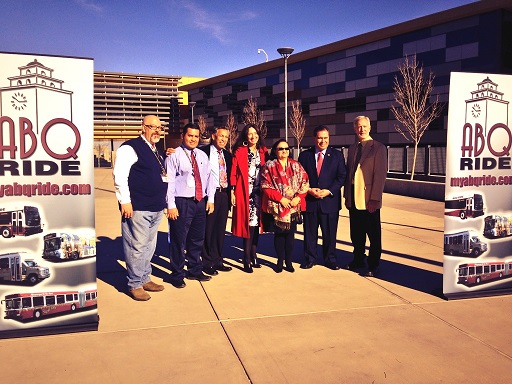 At the news conference at Atrisco Heritage Academy High School:  from left, AHAHS Activities Director Sal Treppiedi, Principal Antonio Gonzales, Bernalillo Co. Commissioner Art De La Cruz, Albuquerque City Councilor Klarissa Peña, APS Board Member Dr. Annalee Maestas, State Senator Michael Padilla and ABQ RIDE Director Bruce Rizzieri.