3rd Annual Great Bus Race Run in Another Record Time
Final Results for All Contestants Available Here
5/31/13
For Final Results for All Contestants, click HERE
– For the first time in The Great Bus Race history, the 1st place winners in ABQ RIDE's Great Bus Race broke the one hour barrier in making the finish line.  In fact, the first two teams finished the race in less than an hour.  And many of the teams used ABQ RIDE's new App and TXT2RIDE service in reaching the finish line.
First Place winners Jonathan Saiz and Tony Lopez of Albuquerque became this year's Great Bus Race Champion when they ran not only ran the race in 51 minutes, but also accumulated the most points.  Their 51 minute time makes them the fastest-ever contestants to run the race.  The two men, along with 36 other contestants ran a course that took them from the Central and Unser Transit Center at 10:40 a.m. to different city venues around Nob Hill, Old Town and Downtown.  The winners were announced at 2 p.m. at the Alvarado Transportation Center at First and Central.
The First Place winners both won iPad Minis.  2nd Place winners ­­Brenda Cazares and Aysia Chavez of Albuquerque received iPod Touches.  Third Place winners Seth Ingersoll and Matt Jacks received gift certificates to popular Albuquerque restaurants Monte Carlo Steak House and The Cooperage.
Points were awarded for arriving at each venue, performing tasks and answering questions.  In Nob Hill, contestants had to wolf down a slice of pizza at Slice Parlor at 40 seconds, take a picture at Astro-Zombies and answer a question at the Fiesta Jarabe Dancers on the UNM campus.  In Old Town, they gulped down a specialty soda at Pikes Peak Candy in 30 seconds, took a picture at San Felipe Neri Church and answered a question at the Don Francisco Cuervo y Valdez sculpture.  In Downtown, blindfolded, team members fed each other a slice of watermelon in one minute, took a picture at the statues in front of the Hyatt Regency Downtown and answered a question at the Kimo Theater.
ABQ RIDE's The Great Bus Race was  a mixture of adventure, competition and great prizes, along the lines of CBS's The Amazing Race; a sort of citywide scavenger hunt which required contestants to use ABQ RIDE buses and walking as their only forms of transportation.  Teams were also required to have a Smartphone or mobile device that scanned QR codes and took pictures at different venues along the way.  For the first time ever, teams were also encouraged to use the ABQ RIDE App and TXT2TRIDE texting service to locate their buses and schedules.
Contestants board #766-Rapid Ride        Aaron Wallentine poses at Astro-Zombies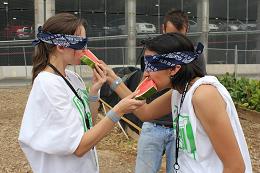 Contestant Aysia Chavez at Slice Parlor  Tabitha Hanson & Christina Salas tasking
2013 Race Contestants