Biography of Police Chief Mike Geier
Information about the career of Police Chief Mike Geier.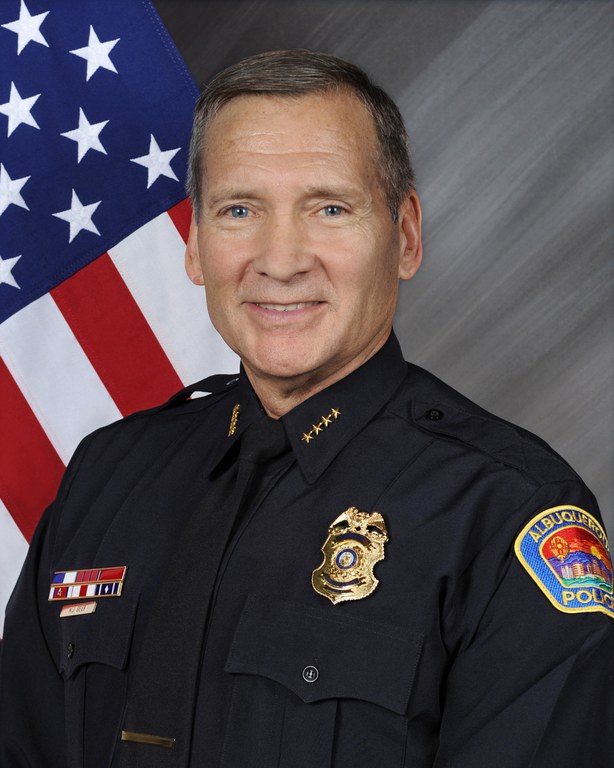 Mayor Tim Keller appointed Mike Geier to serve as the Chief of Police for the Albuquerque Police Department.
Geier has more than 43 years of police experience, including serving 20 years with APD and the past three years as Rio Rancho Chief of Police.
Geier served as Commander for nearly five years in APD's Criminal Investigations Division, overseeing the Violent and Juvenile Crimes Sections, and served as Commander for the International District/Southeast Area Command. As the Commander in violent crimes, Geier also served as the director of the city's Family Advocacy Center (AFAC), where he coordinated efforts from several non-profit and governmental providers of victim services in our community. He also served on the board of Sexual Assault Nurse Examiners (SANE).
Mike Geier retired from APD in April 2014 to take on the position of Chief of Police with the Rio Rancho Police Department. He served in that agency for three years, during which time he made numerous progressive changes in the operation of that department.
He served on several law enforcement executive committees in New Mexico during his tenure as chief, including the New Mexico Police Chief's Association, NM Gang Task Force, NM Regional Drug Task Force, the Drug Enforcement Advisory Commission, the FBI's Regional Forensic Computer Lab and the College of Central New Mexico's Criminal Justice Advisory Board and Curriculum Committee.
Geier has received numerous awards and commendations over his 43 plus year career in law enforcement, which has spanned parts of five decades. These include the Exceptional Merit Award and a Lifesaving Award (Illinois.) He has the unique distinction of being recognized as the Officer of the Year four times during his career with two different police departments. Two of his most significant accomplishments were having RRPD gain recognition by the IACP for their Excellence in Victim Services Award in 2016 in the midsize city category (this was the same award he had helped APD achieve back in 2011 in the large city category) and for being awarded that same year with New Mexico State Law Enforcement Accreditation by the New Mexico Municipal League.
At APD, Geier received both Officer of the Month in September 1998 and Officer of the Year for that same year with APD. He was recognized by MADD and the Albuquerque Partnership in 2002 for his work in leading APD's underage drinking program, the Party Patrol. He received another award from MADD for this program as part of their annual Honoring Heroes in 2007. In 2009, he was honored by the New Mexico Crime Victim's Reparation Commission for his work at the AFAC. The Domestic Violence Resource center recognized him in 2010 as their Hero of the Year. In 2011, his work at the AFAC was also acknowledged by the International Association of Chiefs of Police (IACP) when APD was awarded the IACP Excellence in Victims Service Award. He received the Public Service Award in 2013 from the Dialogue Institute of the Southwest. A further indication of his work ethic, Geier also finished first on both his promotional processes for sergeant and lieutenant with APD.
A second-generation police officer, Michael Geier started his law enforcement career in 1974 with the Wilmette, Illinois Police Department in north suburban Chicago. He worked 20 years with that agency, reaching the rank of Lieutenant before taking an early retirement due to his wife's health issues with winters in the Midwest. Seeking a milder climate, he began a second police career as a recruit officer with the Albuquerque Police Department in 1994. He served 20 years with this department, reaching the rank of Commander in 2007.
After graduating from his first police academy at the Illinois Police Training Institute with top honors, he has earned an Associate's Degree in Law Enforcement, a Bachelor's Degree in Applied Behavioral Science, and a Master's of Arts Degree in Administration of Criminal Justice. Geier attended his second police academy upon coming to APD in 1994. He once again finished as with honors as the Top Cadet and Top Physical Fitness student upon completion of an extensive 22 weeks training regimen.
He is also a 1981 graduate of the 55th class from Northwestern University's nine month Police Administration Training Program. This was a prestigious police management training program that is now held as a 10-week School of Police Staff and Command. Geier finished with honors in this class of 83 law enforcement executives from across the world.
Geier attended the renowned FBI National Academy, graduating with another straight A average. He was selected by his fellow 220 classmates, police executives from all over the world, as Session President and represented their class by giving the commencement speech at their graduation ceremonies in June 2013. He is a published author of police training articles, including a recent research study he co-authored entitled, Albuquerque Police Department Operation Hot Spot Method and Evaluation. It was published in International Association of Law Enforcement Intelligence Analysts journal in 2012. While with APD, he served on the Board of Directors of both the NM Sexual Abuse Nurse Examiners and the NM Crime Victims Reparation Commission.
Mike has served in many different assignments during his law enforcement career, working in such capacities as a uniformed field officer, Juvenile Detective, Evidence Technician, Police Instructor, Field Training Officer, the Metro Unit/Anti-Crime Team Sergeant, Gang Detective and Supervisor, Emergency Response Team Lieutenant, Crisis Intervention Team member and Crisis Negotiator and Team Supervisor. He was a member of the first CIT class with APD in 1997. He was also one of the founders and coordinators of APD's underage drinking program, a successful initiative that gained both state and national recognition.
Geier is an avid fitness enthusiast and, in addition to top fitness honors at his APD police academy graduation, he was recognized for being one of APD's Most Fit Officers for a total of seven years. He regularly competes in the United States National Police and Fire Championships and the World Police and Fire Games in indoor rowing. He currently holds the national record for the 500 and 2,000 meter races in both the 50-59 and 60-69 age groups. He has also won several gold, silver and bronze medals during international competition at six World Police and Fire Games since 1992. Last summer he won 3 silver and one bronze medal in Los Angeles at the 2017 World Police and Fire Games.
Mike has been married to his wife, Judy, for almost 43 years. They have two adult children and two grandchildren.