Information about winter sports recreation offered by the City of Albuquerque.
Several cold-weather sports offer great exercise, including skiing and snowboarding. When the cold weather arrives, make plans to take part in a cold-weather sports.
Skiing & Snowboarding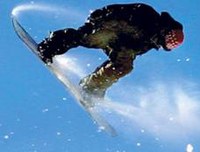 Learn to ski and snowboard with the City of Albuquerque.
Each ski season, the City of Albuquerque offers skiing and snowboarding lessons.
Skiing and snowboarding offer fun, thrills, and great exercise.
January 19, 2013 is the next date for skiing and snowboard lessons! Register today!
Document Actions