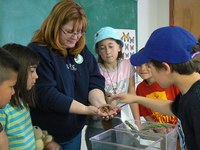 Camp BioPark teachers are well-trained and qualified educators. Teachers work with BioPark staff to develop their curriculum and activities. Our camps have low student-to-teacher ratios, and volunteers provide additional assistance.
We're Hiring for Summer 2014!
Updated: March 2, 2014
The Albuquerque BioPark is now hiring educators for the positions of summer Camp BioPark Teacher and Nature Guide Facilitator at the Albuquerque BioPark's Zoo, Aquarium and Botanic Garden.
The minimum education and experience requirements are a bachelor's degree with major coursework in science, education, or a related field, plus one year full time teaching experience, formal or informal, preferably in the sciences.  Experience developing conservation-themed lesson plans is a plus. Related education and experience may be interchangeable on a year-for-year basis.  All applicants must pass a background check.
Pay rate: $14.00 per hour; hours per week varies with assignment.
To apply: Fill out an application on the City of Albuquerque's website by clicking here, or visiting  the job site at www.cabq.gov and searching for the "Education" position that is available at the BioPark. Be sure to be as thorough as possible when listing your previous formal and informal educator experience, as the HR department will only consider candidates who meet the minimum requirements. In order to expedite the process, please also email resume and cover letter to Kathryn Venzor, BioPark Education Curator, at [email protected] or send to 2601 Central Ave NW, Albuquerque, NM 87104.
Application deadline: Monday, April 7, 5:00pm.  Interviews will be conducted in April.
The individuals selected as the
Camp BioPark Teachers

will:
Conduct one or more of 17 different week-long day camps for grades K-1, 2-3, 4-6 or 7-9.  See www.abqbioparkcamp.com for a complete list of classes.
Develop and implement daily lesson plans and activities for the assigned class.
Promote conservation through experiential learning utilizing the BioPark's exhibits and grounds.
Maintain a safe learning environment.
Engage each child in an active, inquiry-based, child-centered atmosphere.
Work with volunteers assigned to assist with each Camp BioPark class.
Communicate effectively with BioPark staff, campers and parents/guardians of campers.
Perform general administrative tasks as needed associated with Camp BioPark.
Work schedule: Monday-Friday; 8am-4:30pm for full-day camps (with 30 minute lunch; not to exceed 40 hours per week), 8am-12:30pm or 12:00-4:30pm for half-day camps.  Camp BioPark runs from June 2-July 25.  Not all camps are offered every week.  Paid training and prep time is available May 10-31.
The individuals selected as the
Nature Guide Facilitators

will:
Oversee the BioPark Nature Guides, which are a group of teens (ages 14-18) and volunteer captains that work at learning tables throughout the BioPark facilities, called Nature Stations. This position is a very hands-on and participatory role spent mainly out on the facility grounds.

Develop and conduct Nature Guide volunteer training classes.
Facilitate and supervise the daily teaching done by the Nature Guides.
Develop a positive mentorship to keep Nature Guides engaged and challenged.
Conduct on-the-job training for new Nature Guides.
Develop and implement new Nature Stations and activities.
Work at an assigned site of the Zoo, Aquarium, Botanic Garden (front grounds) or Botanic Garden Heritage Farm for the duration of the program.
Communicate effectively with BioPark Education staff, volunteers and parent/guardians.
Perform general administrative tasks as needed associated with the BioPark Nature Guide Program.
Work schedule: Monday-Friday, 9am-4pm with a 30 minute lunch; up to 40 hours per week.  The Nature Guide program runs from June 2-July 25; Facilitators are required to be at training preparation and training dates (May 28-30). Paid training and prep time is available May 10-31.
Required Training and Availability: All hired teachers must attend a mandatory training on Saturday, May 10 AND Wednesday, May 28, from 9am-5pm, and be available to work during the period of June 2-July 25, 2014.
Document Actions