Albuquerque Adoption Appreciation Day
Councilor Ken Sanchez and Councilor Don Harris Sponsor Albuquerque Adoption Appreciation Day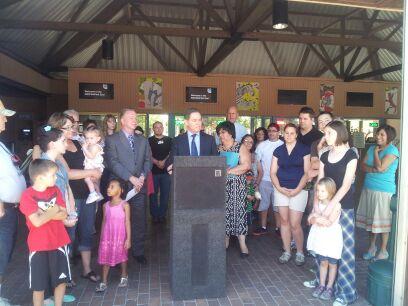 Albuquerque, NM – Today Albuquerque City Councilors Ken Sanchez and Don Harris hosted an event at the Albuquerque Rio Grande Zoo to show support for the adoptive families of New Mexico. There is a very personal connection for both of the Councilors on the subject of adoption.
In November of 2006, City Councilor Don Harris adopted his son, Joshua, and City Councilor Ken Sanchez' son-in-law adopted his granddaughter.  This marked the beginning of their personal involvement with adoption and New Mexico's CYFD.
Since 2006, both have attended National Adoption Day with the Second Judicial Court, celebrating new beginnings for many young children with permanent families.   Both Councilors have participated and provided passes to the Albuquerque Rio Grande Zoo in past years.  This year, they worked with the full Albuquerque City Council to allocate thirty thousand dollars for one hundred and fifty annual BioPark and EXPLORA passes to families that have adopted children through CYFD and reside in Bernalillo County, into their homes, giving them love and hope. This resolution was passed unanimously by the Albuquerque City Council on June 17, 2013.
Today Councilors Harris and Sanchez were joined by CYFD Cabinet Secretary Yolanda Deines to release the first set of annual passes to the several families that were present. Councilors Harris and Sanchez stated at the event that parents who adopt are the "unsung heroes" of our community.
This is the City of Albuquerque's acknowledgment and appreciation for all that these families do to help our youth.  During their busy lives of providing for these children, making sure that they are able to attend school, and lead a happy stable life, the passes will give them some time to spend together as a family and enjoy some of Albuquerque's treasured venues. The passes are available Monday through Friday from 8:00am – 5:00pm, at the Albuquerque City Council Offices in City Hall, Once Civic Plaza NW 87102.  For more information, please call (505)768-3100.
National Adoption Day will be celebrated this year on November 23, 2013.