Pollination Celebration Kickoff: Wed., June 24
View the schedule of activities and events for the kickoff of the 2020 Burque Been City USA Pollination Celebration.
Pollinator Photo and Art Competition
We're kicking off our celebration with a photo contest! Share your photo or art of a pollinator - whether it's bees, birds, butterflies, bats, or beetles - to the Burque Bee City USA Facebook page and vote for your favorite! @burquebeecityusa. View more information about the competition.
Welcome to the 4th Annual Pollination Celebration!
The Annual Burque Bee City Pollination Celebration has always been a rain or shine event, and This year is no different! Thank you for joining us online to celebrate the pollinators that keep our ecosystem thriving!
Exploring Wild Bees in New Mexico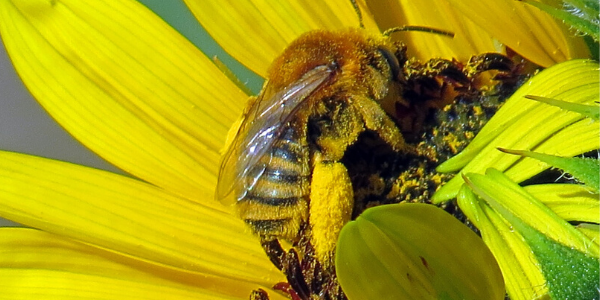 View Facebook Livestream and Q&A
Join Dr. Olivia Carril for an exploration of New Mexico's beautiful native bees! Within the state of New Mexico there exist some 1000 bee species, including solitary and social bees, large and small ones, common and rare species, and bees for every season! Through photos and short videos, Dr. Carril will introduce participants to the lives of some of the many wild bees that can be found in the state. Learn about different nesting habits, flower preferences, and the best times of year to see some of the more common bee species in the state. This webinar will be streamed LIVE on Facebook, and your questions are welcome!
It Takes Two to Tango: Attraction, Deception, and Mutualism between Native Plants and their Pollinators (5pm)
The co-evolution of plants and pollinators has created both subtle and amazing adaptations in each. Alissa and Maria will talk about plant-pollinator adaptations, why native plants are important to support this relationship, and some of the best native plants that attendees can select for their backyard habitats.