Mayor Richard J. Berry, ABQ RIDE, Rio Metro and NMDOT Open New, Montaño Transit Center
New Station Provides Bus, Rail Runner Connections to North Valley Area
4/7/14
It's been three years in the making; an intermodal transit hub in Albuquerque's North Valley to serve both ABQ RIDE and New Mexico Rail Runner Express customers. Today, with a few snips of a ribbon from different guests, the Montaño Transit Center finally became a reality.
After a soggy groundbreaking last September followed by months of construction, the brand new station will now serve Albuquerque's growing North Valley and Montaño/Montgomery river-crossing corridor.  The pueblo-revival style rail platform and station cost $7.1 million (78% federal money, 22% local funding).
"The Montano Transit Center is a welcome addition to the neighborhood which will open a bigger stretch of the North Valley to greater economic development opportunities," said Mayor Richard J. Berry. "It will also bring affordable public transportation to even more Albuquerque residents."
"The New Mexico Department of Transportation is glad that we can help more people access alternative transportation. This new station will provide residents with a new option for connecting with the Rail Runner as well as bus service," said NMDOT Cabinet Secretary Tom Church.
The four-acre center features a 290-space parking lot, along with bus bays, bike racks and lockers and free Wi-Fi service.  ABQ RIDE's Route #157-Montaño/Uptown/Kirtland will serve the center with numerous stops seven days a week.  The New Mexico Rail Runner Express will make seven north and southbound stops at the Transit Center on weekdays, four on Saturdays and three on Sundays.
"This new Transit Center serves current ABQ RIDE service and is a foundation for planning for future ABQ RIDE service in the North Valley, as well as east/west connections such as Montaño-Montgomery, and connections to a Rail Runner station," said Bruce Rizzieri, Director of ABQ RIDE.  "Its green features, such as LED lighting and solar panels, will also serve as a template for similar station construction in the future."
"The Montano Transit Center will become a new spoke in the alternative transportation wheel," said Dewey Cave, Executive Director of the Mid-Region Council of Governments.  "This new station opens the door for new passengers to use the Rail Runner for both commuting to work and taking the train for leisurely trips to Santa Fe."
G. Sandoval Construction was the contractor for the station. It is experienced at transit-related construction, as it was also the contractor for Las Cruces' Mesilla Valley Intermodal Transit Terminal, which opened last December.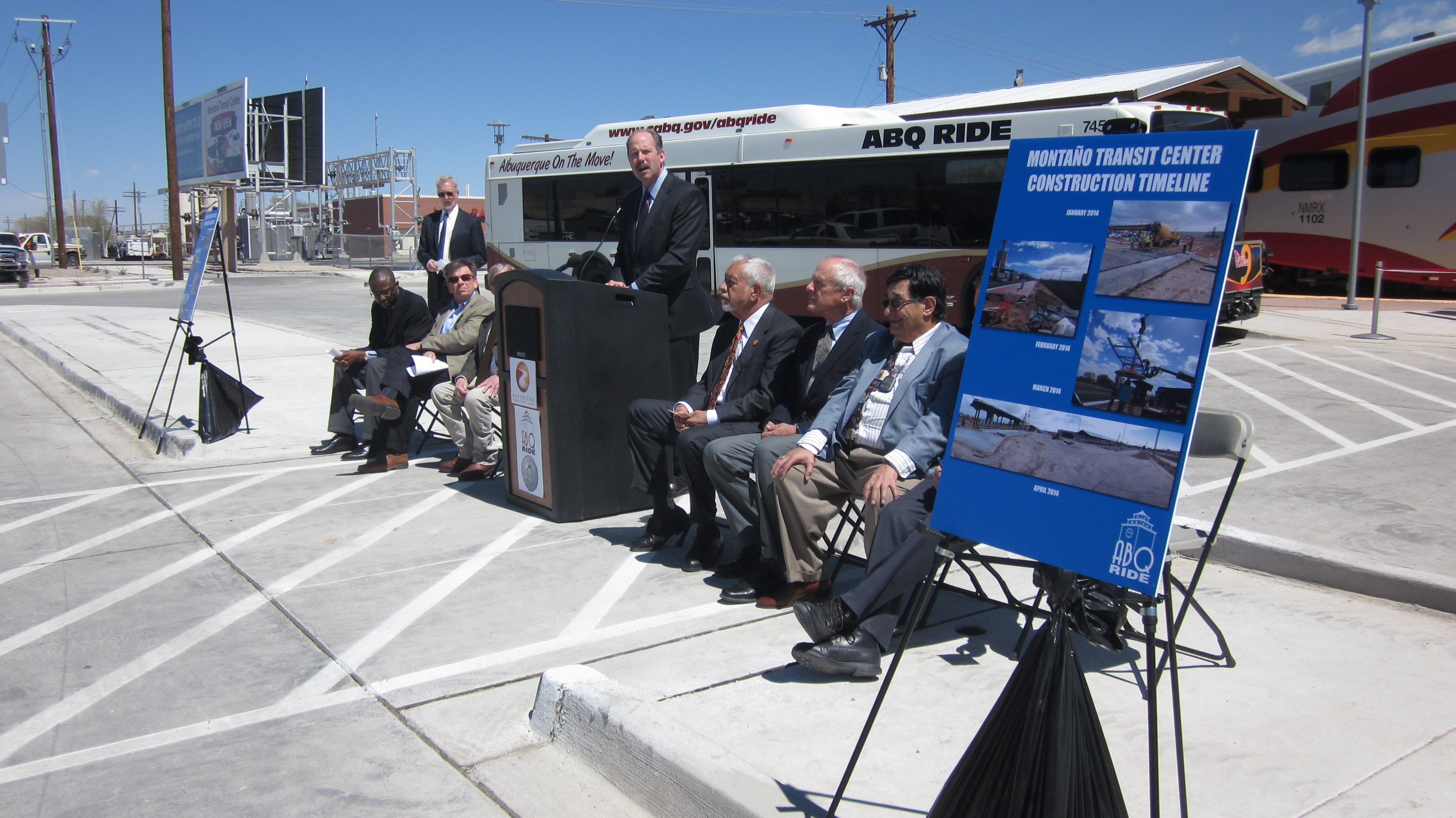 Mayor Richard J. Berry addresses crowd               Gathered news media
Cutting the ribbon to open the Montaño Transit Center. From left: Mike Martinez, G. Sandoval Construction; Bill Woldman, representing Sen. Tom Udall; Tom Church, N.M. Secretary of Transportation; Tony Ogboli, Fed. Transit Admin.; Isaac Benton, ABQ City Councilor; Mayor Richard J. Berry; Rey Garduño, ABQ City Councilor and Rio Metro Vice Chair; Dewey Cave, Exec. Director-MRCOG and Bruce Rizzieri, ABQ RIDE Director.