Cerro Colorado Landfill
Information about the City of Albuquerque's Cerro Colorado Landfill.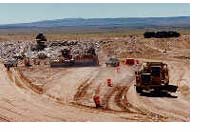 Located at 18000 Cerro Colorado SW, the landfill currently has a 20-year operating permit (April 2001 Renewed) for 390 acres of waste disposal. This state-of-the-art facility was opened in May of 1990 and takes in approximately 450,000 tons of  residential and commercial trash per year. Cerro Colorado is also permitted to take in and safely dispose of petroleum contaminated soils (from oil spills, leaking storage tanks, etc.) in a separate 5-acre area. Cerro Colorado currently has a life expectancy of 50 Years.
Cerro Colorado is regulated and monitored by the State of New Mexico's Environment Department. The landfill complies with all state solid waste management regulations, and in 1993 it was rated second among 160 landfills nationwide by the Solid Waste Association of North America (SWANA).
Commercial haulers with valid permits may dispose of trash at the landfill, while Albuquerque residents may take advantage of residential curbside trash pick-up or take their trash to one of three Convenience Centers for transfer to the landfill or recycling facility.