ePlan
Information about applying for building permits in using the electronic plan review process..
ePlan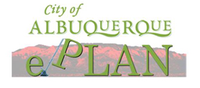 ePlan is an electronic plan review process available to developers, contractors, architects, homeowners, and anyone else planning to apply for a building permit and build in Albuquerque. The ePlan process allows builders to work with the City of Albuquerque electronically, bypassing lengthy and costly processes of the past.
The ePlan Process
Fill out the application and drop it off at the Building Permit office if this is your first time using ePlan.
The City will process your application and send you a confirmation email.
Log in to the ePlan system with the information delivered to you in the email.
View your project and upload your plan and supporting documents to the system.
Uploaded documents will be screened and markups will be made by the City.
Review the markups and make corrections as necessary.
Check the status of your plan review at any point in this process.
Watch the video below to learn more about how to participate in the ePlan process or view the ePlan applicant manual.